Whipple award presented to Kiwanis founder, former mayor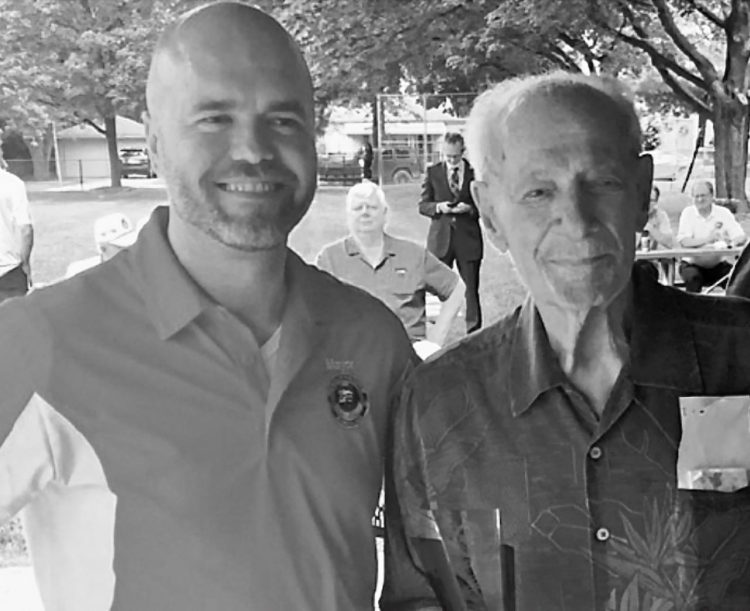 Sep. 6, 2021  PLYMOUTH EAGLE.
Plymouth Michigan News
Members of the Plymouth City Commission presented the prestigious Ruth Huston-Whipple Award for Civic Engagement to former Mayor James Jabara during their Aug. 16 meeting.
The award is the latest of many for Jabara who, at 92, is one of the longest- serving civic activists in the community. This award is presented annually to a member of the community who has positively impacted the quality of life in the City of Plymouth through his or her exceptional civic and/or philanthropic engagement and Jabara certainly exemplifies that criteria.
During his installation as a member of the Plymouth Hall of Fame in 2018, speakers noted his long-time and dedicated service as a Plymouth City Commissioner and mayor, and as chairman of the 35th District Court Building. Jabara also served as a long-time board member of the Plymouth Chamber of Commerce along with his work with the Fall Festival and the Ice Festival committees. He served as Chairman of the Advisory Board and served on the Board of Directors of the Salvation Army, and is an active member of the Plymouth Library Board.
Jabara is a charter member of the Kiwanis Club of Colonial Plymouth and served as the first president of the group.
"In addition, his many successful business ventures have contributed greatly to the growth and development of the Plymouth community," the Hall of Fame resolution stated.
Jabara said he was very, very surprised by the honor. "It really was a surprise," he said. "I was very humbled by it."
Jabara, a 1950 civil engineering graduate of Michigan Tech, is owner of J.M.J. Properties, a real estate development and management firm in Plymouth.
He served in the U.S. Army until his discharge in 1953 and then began working at Commonwealth Associates, Inc. as a structural steel designer. In 1956 he went to Williams and Works in Sanitary Engineering and from 1959 to 1976 he was involved with Enviro-Fab, Inc. where he was both vice-president and co-owner before founding J.M.J. properties in 1978. He is also a Life Trustee of the Michigan Tech Fund, serving 10 years on the board of trustees. Jabara and his wife, Anita, are long-time Plymouth residents. He has two sons, Marty and Michael, and three grandchildren. He is also the proud great-grandfather of two.
The Ruth Huston-Whipple Award for Civic Engagement is named in honor of Ruth Huston-Whipple, the first female elected Plymouth City Commissioner (1934-1949), the first female mayor of Plymouth (1940-1942) and first female Wayne County Board of Supervisors member.
Plymouth Voice.