Township plan may reopen fire station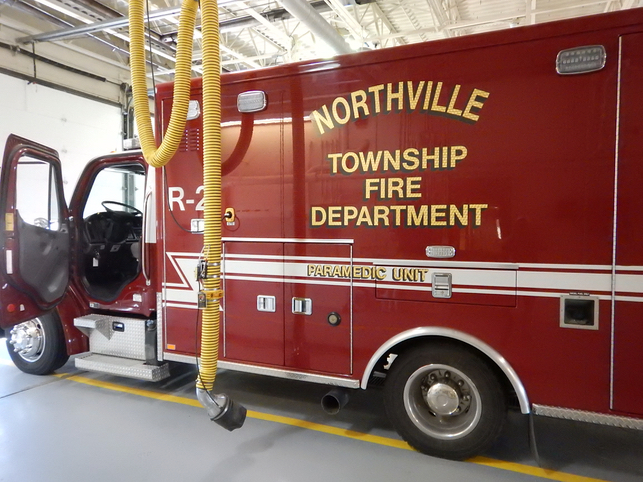 Jun. 3, 2017  PLYMOUTH EAGLE.
Plymouth Michigan News
Don Howard
Staff Writer
Members of the Plymouth Township Board of Trustees once again disagreed about the proposed hiring of three new firefighters, part of a plan initiated by Township Supervisor Kurt Heise aimed at reopening Fire Station No 2. The plan includes hiring three new firefighters and augmenting staffing at the station with two firefighters from Northville Township, in addition to the Plymouth Township staff. Fire safety was a key element in the political campaigns of Heise and other board members last year.
At two previous township study sessions, board members questioned the long-term efficiency of the plan and demanded "sufficient information and operational plan details" of Heise's proposed merger.
Fire Chief Dan Phillips has maintained that it would take six additional firefighters to properly facilitate opening the station but indicated he would agree to Heise's plan. Heise told the board members and audience that the detailed plans for a cooperative effort using Northville firefighters was forthcoming. He said negotiations with Northville Township have been under way for nearly four months.
At a previous study session Heise advised board members that the plan was being prepared by Northville Township attorneys.
"We're getting an emergency agreement that will lay out the responsibly and obligation of both sides." Heise said.
Trustees Jack Dempsey, Bob Doroshewitz and Gary Heitman had each requested bullet points and a memorandum of understanding so they could better comprehend the proposed agreement. Just prior to the opening of the meeting last week, Heise distributed a two-page synopsis titled "Principals of Inter-governmental Agreement for Fire Station #2" to the trustees and set the tone for the public safety-fire department discussion.
"We're not debating Northville's agreement," the supervisor said.
Curmi who objected, said, "There's no time line, there's no plan. You're asking us to trust you? Write it down."
"The motion speaks for itself…what do you want?" Heise responded.
"I told you …something to see why we're spending $650,000," Curmi answered.
It was estimated that the annual cost factor per firefighter was $110,000, including wages, taxes and benefits. Curmi said he didn't want to see Heise come back in a year saying it (the plan) wasn't working and asking for more funding to hire three more firefighters.
Doroshewitz said after the meeting he and other board members were solidly behind the plan to reopen Station 2 but wanted to have all the facts before they proceeded.
In spite of the protests, board members approved an amended resolution after final discussion of the word, "facilitated." The resolution describes the hiring of the three firefighters as "recruiting pursuant to the rules of the Civil Service Commission." The verbiage said the township was currently preparing to schedule interviews for candidates, which appeared contrary to Phillips' claim that he has been conducting Civil Service exams and interviewing potential firefighter candidates since January in order to be ready for the potential re-opening of the Lake Pointe Fire Station.
The language of the revised motion reads: "I move to authorize the Township Supervisor to recruit three (3) full-time fighters in order to reopen Fire Station #2, pursuant to the rules and hiring procedures of the Civil Service Commission, with the understanding that the reopening is contingent upon an agreement with Northville Township that will be presented to this Board upon the conclusion of negotiations."
Heise's two-page bullet list included an item under "Operations," which read, "At certain limited times when personnel arrangements necessitate, Station #2 will be temporarily out of service and will be put back into service at the earliest possible opportunity." People familiar with the plans estimate it will be necessary to close Station No. 2 a minimum of 30 to 40 days in the course of one year. The list was not discussed at the meeting.
The final vote was 6 to 1, with Doroshewitz casting the opposing vote. At the conclusion of the meeting, Heise thanked board members for "making tough decisions tonight on some tough stuff."
Northville Township Public Safety Director Todd Mutchler said he was aware that there was a staffing agreement with Plymouth Township regarding Station 2, in the works between the two communities and added that they have had long-standing agreements with neighboring communities when it comes to mutual aid.
"I've not seen the final agreement." Mutchler said referring to the Heise plan.
Northville Township has one fire station located on Six Mile Road. Mutchler said a large percentage of Advance Life Support (ALS) calls emanate from the east side of their township. They employ 27 full-time firefighter paramedics. Plymouth Township employs 18 full-time paramedics. There are several Northville assisted-living and skilled care facilities located on Six Mile and on Haggerty Roads.
"It's up to Plymouth Township to address the service levels they want," Mutchler said.
Mutchler indicated the two community fire chiefs are "talking about the agreement." He said he would hope something might be completed by late summer or early fall.
"Any time two communities want to work together with successful solutions it's always a positive thing. Station 2 opening would certainly help with (our) response times."
Plymouth Voice.