Township board members take oaths of office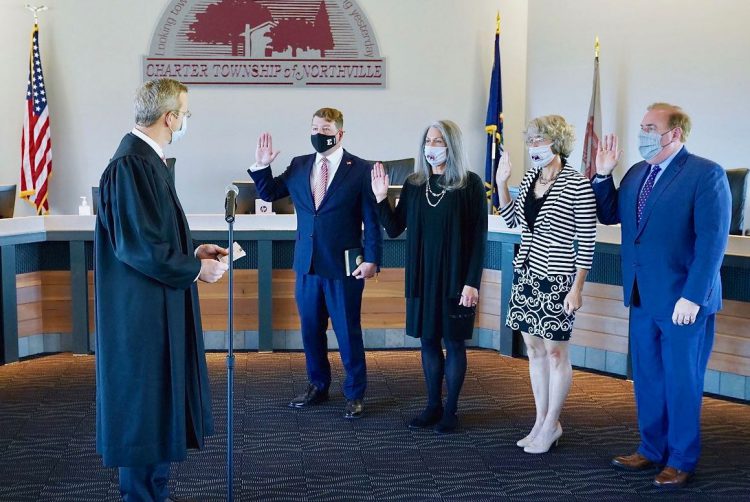 Dec. 8, 2020  PLYMOUTH EAGLE.
Plymouth Michigan News
Four new members were recently welcomed to the board of trustees in Northville Township.
Michigan Court of Appeals Judge Thomas C. Cameron and 52-1 Novi District Judge Travis Reeds administered the oaths of office to new Supervisor Mark Abbo, who previously held the post from 2000-2012. Prior to that time, Abbo served as a township trustee for eight years. Since then, he has worked as the chief financial officer for Wayne County and as fiscal director for the Wayne County Commission. Abbo, a certified public accountant, also has more than 30 years of private sector experience.
Also sworn into office was new Township Clerk Roger Lundberg. He spent 35 years as an engineer in product development and as a director at Chrysler/DaimlerChrysler. He also serves as president of the Northville Hills Golf Club Homeowners Association and earned an engineering degree and a master's degree in business administration from the University of Michigan.
New treasurer is Jason Rhines who owned a building restoration company for 25 years, and is a licensed residential builder. He graduated from Schoolcraft College and participated in the Goldman Sachs 10,000 Small Businesses entrepreneurship program with curriculum designed by Babson College. He previously served on a non-profit board, raising funds for various charities. Reeds is a longtime friend of Rhines and wanted to personally administer the oath of office to him.
Trustee Cynthia Jankowski, a member of the Northville Public Schools Board of Education since 2012, was also sworn into office. As a member of the school board, she served as a liaison to the Landfill Working Group. She also is a Northville Historical Society member. Jankowski holds an accounting degree, has more than 30 years experience as a paralegal in litigation and real estate.
Jankowski joins incumbent trustees Scott Frush, Mindy Herrmann and Christopher Roosen.
Plymouth Voice.