Township accuses business of blocking sewer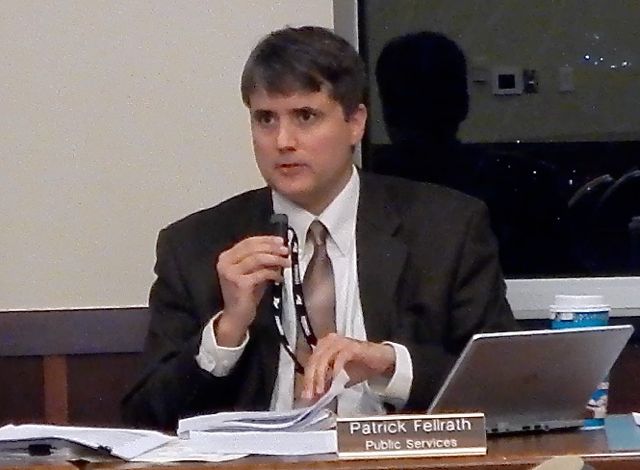 Nov. 30, 2015  PLYMOUTH EAGLE.
Plymouth Michigan News
"It's not contaminating the environment. It's not dangerous. It's basically orange peel."
Don Howard
Staff Writer
"We've been caught in the political crossfire with Plymouth Township," said Dan Dalton, a land use attorney representing a Plymouth Township manufacturing company, following the regular meeting of the board of trustees last week.
Dalton and attorney Matthew Froberger were in attendance at the meeting representing VersaTrans, a manufacturer of screen printed transfers, when Plymouth Township Director of Public Services Patrick Felrath read a long list of allegations claiming violations of water pollution, meter rigging and plugging up the Western Township Utility Authority (WTUA) sewer system outside the VersaTrans facility.
VersaTrans, however, was given a clear report from the Michigan Department of Environmental Quality stating that the company has officially been in compliance with state regulations since last January.
The state required only that VersaTrans apply for a discharge permit, which Dalton said the company has completed.
Dalton said he's perturbed after hearing the allegations from Felrath, but not surprised at the behavior of township officials.
"It was an odd situation, I don't know why it was on the agenda…I don't know why it was being discussed." Dalton said later. "Nothing related to Plymouth Township came out of it."
Trustee Bob Doroshewitz suggested during the discussion that township officials could be attempting to mitigate previous actions regarding VersaTrans.
In early August, VersaTrans officials publicly complained that Plymouth Township Treasurer Ron Edwards arbitrarily withheld a tax rebate check due the company. VersaTrans invested more than $150,000 to bring the Keel Street building up to building and safety codes and meet requirements to qualify for the Wayne County Land Bank TURBO rebate program. The final rebate check was not sent to the county by the Edwards' office, according to VersaTrans attorneys, who threatened legal action to redeem the rebate, estimated at $7,500.
Township Supervisor Shannon Price announced at the end of that month that the conflict between VersaTrans and Edwards was caused by the erroneous removal of VersaTrans from the TURBO program, "by someone in the offices at Wayne County." VersaTrans finally received the long-overdue tax rebate money from Wayne County at the end of October. Representatives from the Wayne County Treasurer's Office told VersaTrans they never received the funds from Plymouth Township that were earmarked for the rebate but later recanted, accord- ing to informed sources.
Dalton said his clients were taken aback when they received a warning letter at the end of September from township officials claiming VersaTrans is violating the township Sewer Use Ordinance. The cease and desist letter ordered the company to immediately stop and submit a corrective action plan and appear at a hearing. The letter, dated Sept. 28, was signed by Plymouth Township Attorney Kevin Bennett. The letter informed VersaTrans officials that the company would be liable for any expense, loss or damage and could face criminal prosecution if compliance was not made within 10 days.
Dalton said he immediately sent a response to Bennett seeking more information and subsequently left phone messages for the township attorney, all of which went unanswered.
Prior to the meeting last week, members of the board of trustees were provided 31 pages of detail regarding VersaTrans alleged violations with color photos of open sewers showing a blue substance at the bottom.
"It's not contaminating the environment. It's not dangerous," Dalton said of the substance. Doroshewitz questioned Felrath following his presentation regarding the alleged violations by VersaTrans.
"I'm not sure why this is on the agenda," Doroshewitz said. "It seems to be like building a case against somebody for some reason…?"
Price responded immediately, stating, "You have someone who's been very boisterous in the local media (and) we're being ripped about it…"
"I get it – that you're trying to defend yourself in the media…I'm just not sure…" Doroshewitz began, but was immediately interrupted by Price.
"I'm not defending myself Trustee Doroshewitz! I'm bringing out the issue that a company is illegally dumping in a sewer. I'm not defending myself in the press…it's primarily to educate our board members."
The operations employed at VersaTrans have similarities to screen printing where there is a rinse process. VersaTrans said that he material used is citrus based and is biodegradable. "It's basically orange peel," said Dalton.
Dalton said VersaTrans first learned of their discharge water clumping in October of 2014 and hired a company to remove and haul away the material and then purchased equipment that cleaned the discharge from their machinery.
"The only thing we (VersaTrans) were to do was apply for a waste water discharge permit by Dec. 14, and we're doing that," Dalton said.
It was unclear if the township board would request a show cause hearing, by either Western Township Utility Authority (WTUA) or YTUA, the two local environmental authorities. VersaTrans could be required to add machinery to mitigate the potential for blocking the sewer lines, a spokesman said.
"We want to comply with any issue concerning discharge. We don't know what issue the township has with respect to discharge. All we want to do is comply with Plymouth Township, WTUA and YCUA concerning discharge into the sanitary sewer," Dalton said.
Plymouth Voice.