Supreme court rejects township land appeal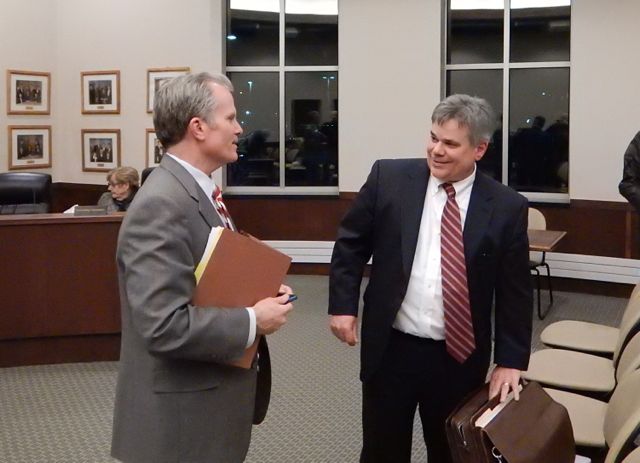 Township attorney Kevin Bennett (Right) and special counsel Mike Cox conclude special board presentation over proposed state Supreme Court appeal, February 2016.
Photo: © Don Howard/Associated Newspapers of Michigan
May 4, 2016  PLYMOUTH EAGLE.
Plymouth Michigan News
Judges at the Michigan Supreme Court have denied the appeal of Plymouth Township for a rehearing of the township claim to 190 acres of property improperly purchased at a tax foreclosure sale in September of 2011.
The Supreme Court issued the judgment in an official order Tuesday in which the justices stated that the motion for immediate consideration of the appeal or an expedited hearing was granted but that the application of the township to appeal the lower court decision was denied, "because we are not persuaded that the questions presented should be reviewed by the court." Township attorney Kevin Bennett and special counsel for the township Michael Cox had convinced the members of the township board to appeal the February 2015 decision of Circuit Court Judge Robert Columbo which was previously upheld by the Michigan State Court of Appeals in January.
The long-running dispute centers on ownership of the land which was part of a 323-acre parcel south of Five Mile and west of Ridge Road. After being notified by the township of non-payment of taxes on the land, the Wayne County Treasurer foreclosed on the property, erroneously recorded as belonging to Demco 54, and offered the site at a tax sale. The township then purchased the land for $606,000 from the county at the sale. The actual owner of the land was the City of Detroit where attorneys subsequently sued the township to regain the property, on the tax rolls at one time for more than $15 million.
The property had been split into two parcels, one purchased by Demco and the other remaining the property of Detroit. Tax notices allegedly went to Demco which did not pay any tax on either portion of the land. There can be no further appeal of the Supreme Court decision and the title to the land must be returned to Detroit.
To recoup the $606,000 paid for the land, the township will now have to pursue legal redress or negotiation with Wayne County.
County officials have contended since the tax sale was first contested by Detroit that their actions were based solely on information submitted to them from Plymouth Township and that the county has no liability in the issue.
Plymouth Voice.