State denies Northville Thoroughbred race permit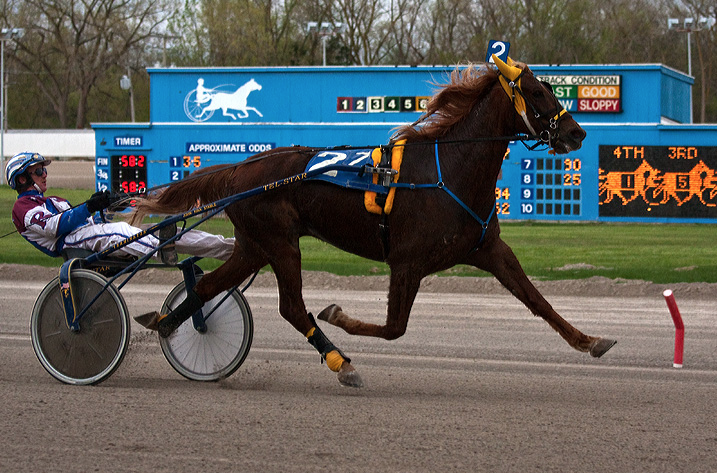 Harness Racing at Northville Downs
Jan. 8, 2014  PLYMOUTH EAGLE.
The plan to bring Thoroughbred and mixed-breed track racing to Northville Downs has been scratched at the post by members of the Michigan Gaming Control Board.
Last month, members of the board ruled against the request, stating that Northville Downs "failed to demonstrate a definitive, specific, and detailed plan" that could be approved according to state law.
The dates application submitted to the state board was amended by Northville Downs in October to include Thoroughbred and mixed-breed licenses in addition to the current harness license. The agreement would have allowed Northville to run 10 harness dates during the spring, then begin construction in May to become permanent Thoroughbred raceway.
Northville would have hosted 16 days of Thoroughbred racing in 2014 from Oct. 12 to Nov. 16, contingent on adequate funding and the readiness of the racing surface.
Northville Downs Operations Manager Mike Carlo estimated a cost of about $200,000 to convert the four-furlong track to Thoroughbred and Quarter Horse racing.
The reliance on factors such as pending wagering legislation in the state Legislature to host the meet was of particular concern to the board members, who cited "no assurance" of sufficient simulcast purse pool money, funding for track conversion, or the safety of the racing surface as reasons for denying the request. The board also stated that Northville failed to supply a convincing plan to assure a sufficient horse population for the proposed racing schedule. In December, Northville reached an agreement with the Michigan Horsemen's Benevolent and Protective Association to convert to a full-time Thoroughbred track beginning in October 2014, pending state approval.
Additionally, the order called the request "untimely," noting that the track's originally approved race dates begin in January, which does not allow for a complete vetting of the application. Northville was originally allocated 26 harness dates from Jan. 31 to April 26.
"The submitted plan does not appear to be in the best interest of horse racing in the state of Michigan for 2014," the order read.
http://www.northvilledowns.com
|News Plymouth Michigan-Plymouth Voice