State Rep moves to transfer DeHoCo property to State Land Bank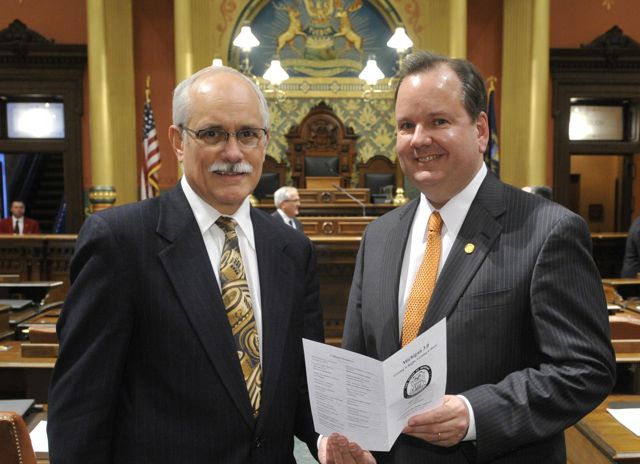 Plymouth Township Supervisor Richard Reaume with State Rep. Kurt Heise R-Plymouth
Dec. 26, 2013  PLYMOUTH EAGLE.
Editor note: The 323 acre vacant farm land on Five Mile Road west of Ridge Road, subject of a City of Detroit lawsuit against Plymouth Township and Wayne County, is often erroneously referred to as the DeHoCo prison site. The property Rep. Heise is referring to is the actual prison-building site. Detroit announced last month they are still pursuing legal charges to recover their land from the township.
State Rep. Kurt Heise, R-Plymouth Township, has introduced House Bill 5179 that will transfer the state-owned Detroit House of Corrections (DeHoCo) prison site in Plymouth Township to the Michigan Land Bank Authority.
"It's time for this eyesore to go. Our residents deserve to see it developed and the state has a duty to make it happen," Heise said. "The DeHoCo site is the heart of the Five Mile corridor between Plymouth and Northville townships, and the Michigan Land Bank is the proper agency to see that it's cleaned up and marketed for jobs and economic development."
The property in question is not the section of land currently the subject of a lawsuit between Plymouth Township and the City of Detroit. A parcel of land, sold to the township for unpaid taxes by Wayne County, was incorrectly recorded in the township assessor's office and was owned by Detroit.
According to Timothy A. Beckett, supervising assistant corporation counsel in the governmental affairs section of the Detroit Law Department, the property that is the subject of this bill is in section 20, southeast of Ridge Road. The city of Detroit property is in section 19, west of Ridge Road and east of Napier Road.
The DeHoCo site, formerly owned by the City of Detroit as a jail facility, was purchased by the state of Michigan in 1979 as part of a regional prison reform effort. The state built additional prison buildings on the site, which was eventually closed by the State in 1986.
Studies done in 2004 confirmed that substantial environmental contamination is prevalent at the site.
"The Michigan Land Bank Authority are the experts at turning around old, contaminated sites like DeHoCo," Heise said. "They know how to leverage grants, tax incentives, and market these sites for development and jobs.
While the property will not be turned around as quickly as Robert Scott Prison, it's critical that we get started, and get the right people on board now."
|News Plymouth Michigan