Season's greetings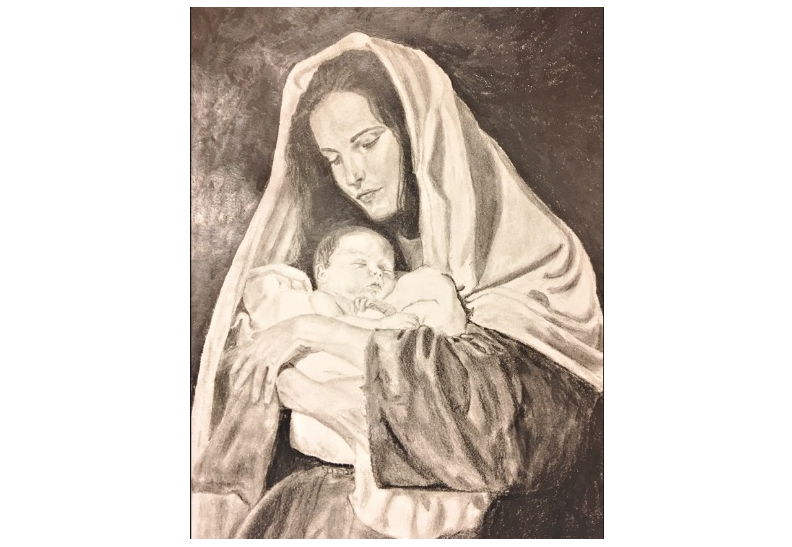 Christian Johnson's drawing, above, was chosen for the Catholic Central High School
Dec. 21, 2017  PLYMOUTH EAGLE.
Plymouth Michigan News
Local student creates card
The annual Christmas card from Catholic Central High School this year may help one student decide on his educational future.
The card was created as part of an art class competition at the high school by 17-year-old Christian Johnson of Canton Township. Johnson, a junior, said he has not decided on whether to pursue an education in art, but the honor of having his work chosen for the "official" card of the school might help him decide.
Johnson has attended Catholic Central since 9th grade after attending Allen Elementary School in the Plymouth-Canton district.
"I really enjoy it," he said of his school. "It's really cool here."
Johnson said his favorite art medium is pencil, with which he created the selected card, using images he researched online and elsewhere for inspiration.
"I like to draw realistic things," he said, "and I enjoy using colored pencil to work."
Johnson said that the school may announce that he created the drawing for the card when they are printed but there really was no prize awarded for the work, other than the satisfaction of being chosen from about 20 other student entries.
He said he has been drawing since he "was a little kid" and that he really enjoyed the are classes at the Plymouth Community Art Center, although he admitted, with his schedule he hasn't been there in awhile.
He spent about four weeks on the creation of the chosen drawing, he said. The youngest of four children of Steve and Sheila Johnson, he added that neither of his brothers or his sister shares his interest in art.
That doesn't mean his talent is unappreciated, though. His parents, he said, have ordered about 300 of the cards to send to family and friends to celebrate the holiday season.
"I'm still undecided about going to school for art, But, maybe," Johnson said.
Plymouth Voice.