Santa's arrival kicks off Plymouth holiday season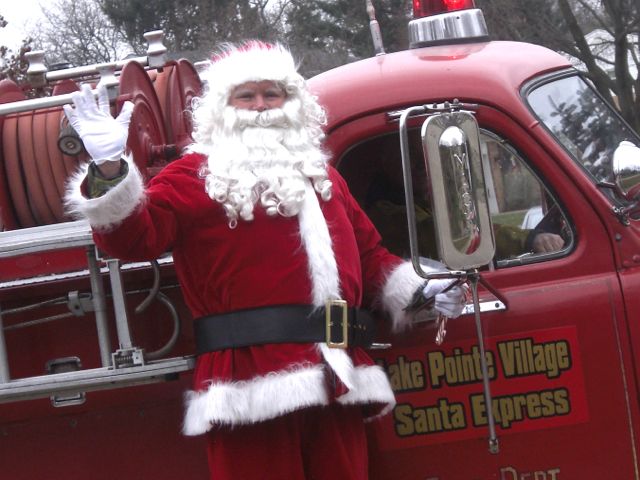 Nov. 25, 2105  PLYMOUTH VOICE.
Plymouth Michigan News
Tis the Season to Visit Downtown Plymouth
Experience a true Plymouth tradition with your family and friends when Santa kicks off the Christmas Holiday Season this Friday. Enjoy snowflake-lined streets, decorated storefronts and a visit from Santa in Downtown Plymouth the day after Thanksgiving!
Friday November 27
5:15 p.m. Plymouth Canton Educational Park Choir takes the Kellogg Park stage
5:30 p.m. Joe Tracey "Let it Snow Santa Show"
6:00 p.m. Santa arrives by Fire Truck-Lighting of the Holiday Tree
6:30 p.m. Santa's house officially opens for the season (schedule below)
6:00 p.m. to 8:00 p.m. Free admission to "A Red Ryder Christmas Story" exhibit at the Plymouth Historical Museum. Children can make crafts at "Santa's Workshop."
Free Candy Canes – Free Hot Chocolate-served by the Plymouth Salvation Army
Santa to visit Lake Pointe
Santa will make his annual fire truck tour of Lake Pointe Village on Saturday, Dec. 5, 2015 from 11:00 a.m. to 2:00 p.m. Planned stops are at Farmbrook and Crabtree at 11:30 a.m., Farrand School 12:00 p.m. and Robinwood and Brentwood at 1:00 p.m.
Canton tree lighting
The annual Canton Tree Lighting event is planned from 6-8:30 p.m. Dec. 2 outside the Summit on the Park. After Santa lights the tree there will be performances from Dancing Feet, Spotlight on Youth, and others inside the Summit. Joining Santa this year will be Frosty the Snowman, a Winter Marketplace, cookie decorating, holiday games and more.
Unique gifts and great stocking stuffers will be available at the Winter Marketplace. Tickets, for sale at the door, are priced at $3 per child for residents, $4 per child for non-residents.
For more information, call (734) 304- 5460.
Canton Breakfast with Santa
Tickets for the Canton Breakfast with Santa that will take place from 9-11 a.m. Dec. 5 are now on sale. The breakfast will be served at the Summit on the Park Ballroom.
During breakfast, children can share their wish list with Santa, create a craft, and enjoy a Christmas story time. All children will receive a holiday souvenir, crayons, and placemat. Online registration is not available.
Ticket sales will continue until Dec. 1 and must be purchased in advance at the Summit on the Park. Ticket prices are $4 for those 3 years of age and younger and Canton residents and $4 for non-residents; $15 for residents 4-12 years of age and resi- dents and $18 for non-residents and $19 for residents 13 and older and $23 for non-resi- dents.
For more information, call (734) 304- 5460.
Central City Christmas Spectacular
The Central City Christmas Spectacular will celebrate the Magic of Christmas like never before with an all-new, unforgettable experience as Santa Claus, Mrs. C, and Ellie take center stage with a large cast of peformers from throughout the area.
Audiences will get a sneak peek at what really happens in the North Pole as Santa and his elves prepare for the big day.
There will be twirling ballerinas, dancing Toy Soldiers and a sleigh ride around the world with Santa and his magical reindeer.
Seven performances are planned at the Village Theater at Cherry Hill, in Canton, at 6 p.m. Thursday and Friday, Dec. 14 and 15,at 11 a.m., 3 p.m. and 7 p.m. on Saturday, Dec. 16 and at noon and 4 p.m. on Sunday Dec. 17 through Dec. 20.
Tickets are $23 and are on sale at Central City Dance Center, 6700 Canton Center Road, Canton. Tickets are reserved seating and cannot be purchased the day of the show.
For more information, visit Central City Dance at www.centralcitydance.com,or call(734) 459-0400.
Letters to Santa accepted
Canton Leisure Services has made special arrangements with friends at the North Pole and the US Post Office to deliver wish list letters to Santa. To mail a letter to Santa, drop it in the North Pole Express Mailbox in the Summit on the Park lobby through Nov. 30. Santa asks that you print your name and address clearly so he may directly reply to your letter.
Canton residents only please. For more information, call (734) 304- 5460.
Simply Dickens at museum
The Plymouth Historical Museum will present the popular Simply Dickens Christmas Show for the fifth year at 7 p.m. Wednesday, Dec. 9.
The show highlights the carols that were well known long ago during the Christmas season but are rarely heard by modern ears, along with a few of the more familiar tunes. There are also comedic holiday skits performed by group members.
Simply Dickens is a period-dressed quartet of trained vocalists and musicians that specializes in the music of the 18th and 19th centuries.
Tickets to the show are $10 in advance and $15 at the door. Museum doors will open at 6 p.m. Visitors can also tour the special museum exhibit A Red Ryder Christmas Story.
The museum is located at 155 S Main St. in downtown Plymouth. For more information, call (734) 455-8940.
Society serves holiday tea
The Canton Historical Society Third Annual Christmas Tea will take place at 1 p.m. Dec. 12.
The event is planned at the Bartlett- Travis House, one of the oldest homes in the township, which will be decorated for the holidays in circa 1900 Christmas finery. Participants can take a step back in time as they enjoy a holiday afternoon tea. The house is located in Preservation Park at 500 N. Ridge Road in Canton. Guests will enjoy an assortment of teas, mini-quiches, sandwiches, and desserts.
Musical entertainment will be provided by harpist Laurel Federbush. Event seating is limited to 20 guests. Tickets for the tea are $25 per person or $20 for Canton Historical Society members and are on sale only at the Summit on the Park, located at 46000 Summit Parkway, Canton.
For more information about the event, visit www.cantonhistoricalsociety.org or call (734) 397-3048.
Santa's Calendar at his Kellogg Park house
11/27: 6-9 p.m.
11/28: 12-4 p.m.
12/5: 12-4 p.m.
12/12: 12-5 p.m.
12/13: 12-5 p.m.
12/18 6-9 p.m.
12/19: 12-5 p.m.
12/20: 12-5 p.m.
12/23: 5-8 p.m.
Plymouth Voice.