Governor welcomes Chinese manufacturer to area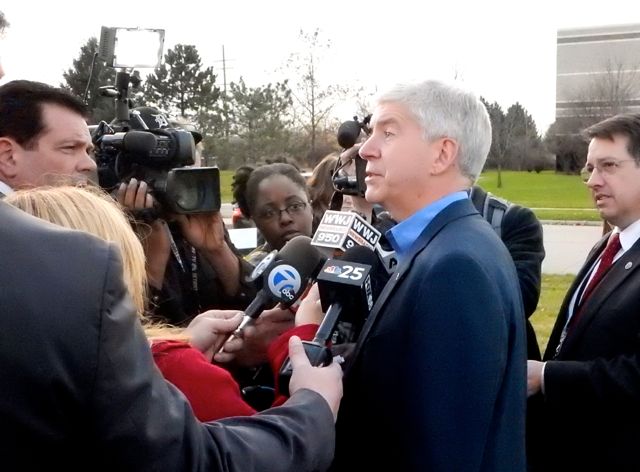 Local, county and state officials, including Gov. Rick Snyder, were on hand last week to celebrate the grand opening of a new $25.9 million manufacturing headquarters in Northville.
Nov. 29, 2015  PLYMOUTH EAGLE.
Plymouth Michigan News
Don Howard
Staff Writer
A subsidiary of mega-giant Chinese manufacturing firm Cixing Group Corp. LTD, is moving the U.S. corporate headquarters from Tustin, CA to a Northville Township industrial park. The company is planning to construct a 50,000-square-foot building located on 5 acres-just off of Five Mile Road near Beck.
Last week while participating in a ground-breaking ceremony with company officials, Gov. Rick Snyder and Northville Township Supervisor Robert Nix touted the potential benefits that will be created by the planned move of CW Bearing USA Inc.
Officials from the Chinese company, a sub-supplier of various automotive type bearings, said they chose Northville because of Detroit area manufacturing resources and the proximity of automotive decision makers. They chose the township site over competing sites in Toledo and Columbia, S.C. According to company officials, CW Bearing's $25.9 million investment will include a new headquarters, design center and manufacturing facility that could bring 125 new jobs to the area within the next 5 years.
Snyder, who reportedly traveled to China five times in the last year on trade missions to encour- age Michigan development, thanked the Chinese delegation for having the confidence to come to Michigan.
"We're known for making the best products in America. Michiganders are the hardest workers. We can show that prosperity and peace can happen together. You're now my customer, I'm happy to have you here." Snyder announced.
CW Bearing, which currently employs 15 workers in Michigan, already has sales offices in St. Louis, MS, Midland, N.C. and a sales and service office in Novi. The company was awarded a $550,000 Michigan Business Development Program performance-based grant from the state and a 6-year tax abatement from Northville Township as an inducement to the move.
The initial construction at 15200 Technology Drive will house the CW Bearing sales and executive staff. The company has a second 5-acre parcel in same location where a manufacturing facility will be constructed. Officials said production parts would be ready by 2018. The tar- get for construction completion is late 2016, for both parcels.
State Sen. Patrick Colbeck who participated in the ceremonial ground breaking said the CW Bearing move was a coordinated effort with General Motors and Tier 1 suppliers. "We're providing their manufacturing base," Colbeck said.
After the meeting, State Rep. Kurt Heise who has been active in the Five Mile Corridor development, said the move was a positive sign.
"Today's groundbreaking is another sign of Michigan's recovery and the fact that more international businesses are looking to settle in Northville and Plymouth Township," Heise said.
Northville Township Manager Chip Snider said he was pleased with the new development, which is outside the official Five Mile Corridor that starts west of Beck Road and runs through Salem Township.
Plymouth Voice.