Salvation Army Red Kettle campaign in full swing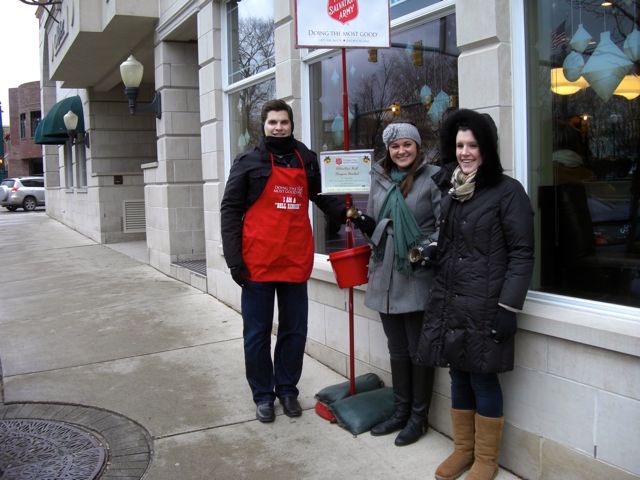 Nov. 29, 2012  PLYMOUTH EAGLE.
CLICK ON GALLERY PHOTOS ABOVE
It may have been Black Friday, but the Salvation Army bell ringers were hoping that shoppers only saw the red of their kettles last week. Volunteer bell ringers were in good holiday spirit as shoppers scurried about, braving the cold, wind and snow flurries, laughing and joking as the annual Red Kettle campaign of the Salvation Army officially began.
Paul Benson and his sister, Morgan, were stationed in front of Starbucks in downtown Plymouth with their friend, Megan McLaughlin. Benson, a Plymouth financial planner said he "strategized his choice of the Starbucks" location because he said he knew there would be, "a lot of cash sales and available change." Apparently it was good choice as Benson and McLaughlin said people were really digging in to help the Red Kettle campaign.
Down the street at the Greek Islands restaurant, First Presbyterian Church volunteers Kenrda Hollingsworth and Rich Felcher were on duty at the mid-day shift, alternating with other church volunteers in two-hour shifts. The two, who were huddled in a corner away from the wind, said donations had been steady at their location, but Felcher thought the majority of the shoppers were at the malls.
Plymouth Township Community Firefighters Pat Conely and Dan Phillips volunteered at Busch's Sheldon Rd. store in shifts on the weekend.
The Salvation Army's annual Red Kettle Campaign runs through Dec. 24. The Plymouth Salvation Army Church, part of an international, Universal Christian Church provides emergency assistance, family counseling and adult and youth services.