Retiring library director honored at reception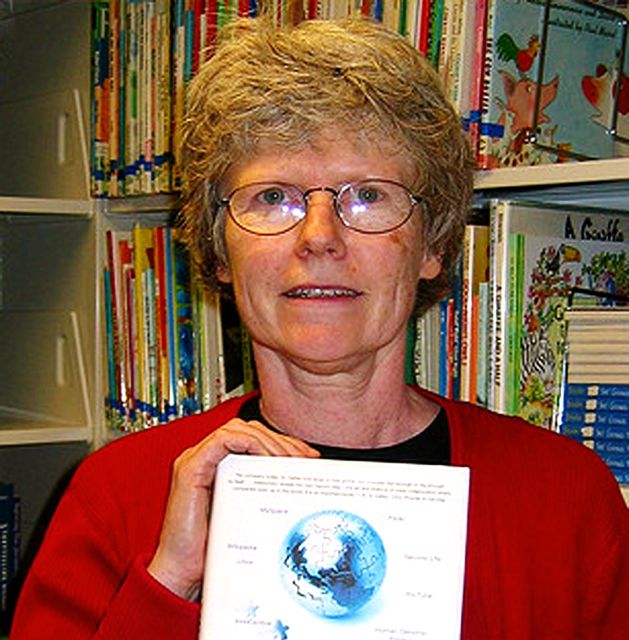 Oct. 10, 2013  PLYMOUTH EAGLE.
Pat Thomas celebrated 34 years at the helm of the Plymouth District Library during a retirement reception honoring her last month. The event was attended by members of the library board of trustees, the Friends of the Plymouth District Library, supporters and fellow employees.
Thomas oversaw three major construction makeovers in her helm as administrator. The library grew from a 6,000 square foot facility to the current 52,000 square foot size. Thomas was hands-on for the supervision of the 2007 addition. "The general contractor gave me a white hard-hat," Thomas said. The library currently serves more than 1,500 users daily from the three-story structure on Main Street.
"Pat has a lot to be proud of," said Library Trustee Jackie George. "She has left a legacy and we are in a stable funding position because of her direction."
The enrichment programs at the library have been nationally recognized for fostering cultural creativity and community entertainment. Thomas had a knack for forging civic partnerships, instituting stronger customer service and presenting new technology as showcased by the updated computer laboratory, trustees said. Her programming and support for attracting teens to read more went hand-in-hand to academic contributions and success at the Plymouth-Canton Educational Park.
In 2006, under Thomas, the Plymouth District Library was specially recognized for its "Taking Life in Stride" program. The outreach was designed to educate the underserved population in the community  "new" seniors between the ages of 50 and 65 – and positively address their concerns and challenges tied to the aging process. Library board chairman Michael Pappas said, "Pat has left a fine legacy for the community, we are grateful for her exemplary stewardship. We are all so very grateful. Not only is she a fine executive, she is a wonderful example and role model."
Thomas said she will now have time to travel with her husband Gene and work on her quilting and gardening.
Veteran library administrator Carol Souchock, most recently the Director of the Adrian Library, will assume helm at the Plymouth District Library.            The library contains a collection of over 220,000 volumes and circulates more than 1,000,000 items per year. http://plymouthlibrary.org/
Submitted by Raymond Rolak
|News Plymouth Michigan