Purchase of new fire truck approved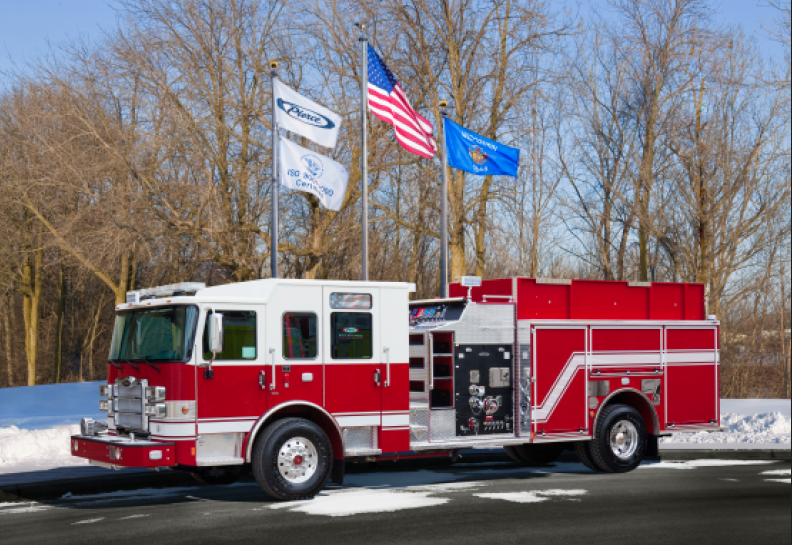 Photo showing Pierce Manufacturing-Enforcer Fire Pumper, a the type similar to the unit ordered by the Plymouth Township Fire Department
Jul. 7, 2018  PLYMOUTH EAGLE.
Plymouth Michigan News
Don Howard
Staff Writer
Plymouth Township Fire Chief Dan Phillips was all smiles at the end of the board of trustees meeting last week after receiving approval to order a new fire truck for the township fire department.
The chief and Lt. Chris Mack presented final specifications to board members for the purchase a new 2018 Pierce Enforcer Fire Pumper for $635,061. This was the first time since year 2000 that the department has had authorization to replace aging and broken down fire apparatus.
State Rep Jeff Noble reported last week funding had been secured in the state budget to boost public safety, libraries and economic growth to area communities. The budget which now has final approval includes a $400,000 project for Plymouth Township for a new fire engine.
The new truck will replace the obsolete 29-year-old 1989 open-cab design vehicle that is no longer manufactured for safety reasons, as firefighters ride outside of the cab. The trucks are now illegal in some areas. Phillips estimated the township is forced to spend more than $20,000 annually for maintenance to keep the vehicle on the road, adding that many of the discontinued parts must be custom made.
Funds for the township fire department dried-up in 2012 after previous township officials closed Wilcox Road Station 2 and reduced staffing by more than half.
According to Phillips, the purchase of the new fire apparatus is "a good start." The township currently has three aged fire engines, the newest of which is 18 years old. The other two fire trucks are 26 and 29 years old.
In a report to board members in February 2017, Phillips said that because of staffing cuts and neglect of equipment maintenance, he was forced to operate without sufficient staffing and broken- down equipment. He said the safety and rescue gear is out of compliance with the National Fire Protection Association (NFPA) safety recommendations, citing obsolete air packs, old power-lift cots and outdated defibrillators. He reported of the two fire engines in service both were badly rusted-out and the one with open- cab design the tank is almost completely rusted and the vehicle is not equipped to carry the Jaws-of-Life.
Since that time, township officials approved the re-opening of Fire Station 2, purchased two new ambulances, two-way radios, defibrillators and hired additional staff. The township recently approved the hiring of three more firefighter/paramedics.
The dedicated effort by new officials has not yet addressed the absence of an aerial ladder truck, and expensive fire engine estimated to cost nearly $900,000. The township does not currently have an aerial ladder truck and cannot facilitate rescues in more than a one-story building. The department relies on Mutual Aid from other community fire departments that add to response times, according to Phillips.
The new fire truck will be custom made to handle specific Plymouth Township equipment and Jaws of Life. It will take a minimum of 10 months build time before delivery and will be purchased at a volume cost advantage under a purchase cooperative with the Rochester Hills Fire Department.
"In the next five years Plymouth Township will have to replace three ambulances and two fire trucks, all before 2023. The current aging equipment will have to hold out until then." Phillips said.
Plymouth Voice.