Public opinion sought in relocation of post office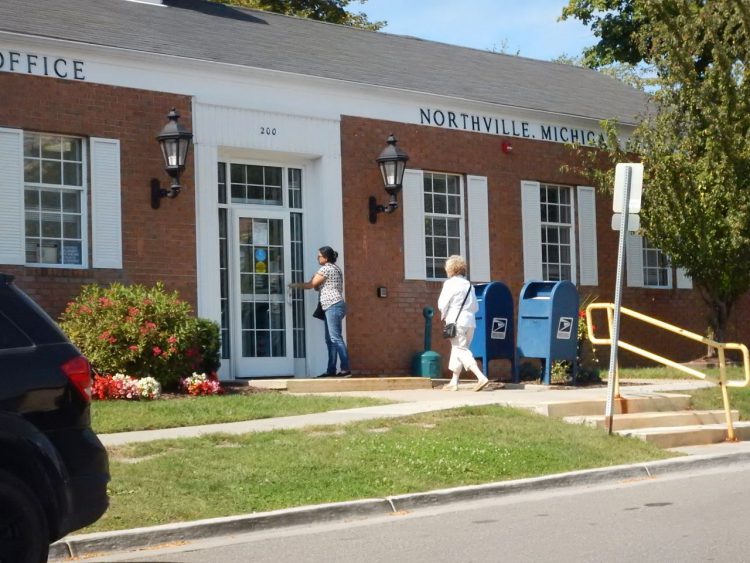 Sep. 19, 2019  PLYMOUTH EAGLE.
Plymouth Michigan News
The Northville Post Office will be completing a change of address card soon as officials have announced a plan to move the facility from the current location on Wing Street.
Vee A. Spikes from the Facilities Implementation Team of the United States Postal Service notified City of Northville officials that the Northville Main Post Office would be relocated to a "yet-to- be-determined location within the city limits," in a letter July 30.
Spikes said the postal service is currently experiencing issues associated with space constraints within the current building. She suggested that the proposed alternative is to pursue a new construction facility and asked the city to help find suitable land for the proposed 15,845 facility.
The lease on the privately-owned current post office site expires Nov. 30, 2022, according to official records.
In her letter, Spikes requested that the proposed move be placed on the city council agenda so public comments on the proposal could be heard and "the Postal Service Team will again identify the needs and decision to relocate the postal services, outline the proposal to meeting he needs for relocation, invite questions, solicit written input on the proposal and provide an address to which the community and local officials may send written appeals of the tentative decision."
That meeting took place during a Sept. 3 public hearing during which the members of the city council reiterated their goal of keeping the post office within the central business district. Former council members purchased land adjacent to the current site to accommodate future post office expansion, they explained and there are no plans to relocate either the Art House or the Dog Park to facilitate the post office expansion.
A contingent of U.S. Postal Service officials attended the public hearing regarding plans to relocate operations from the Wing Street building to a new space of approximately 16,000 square foot on 2.3 acres within the city limits.
Several residents on Wing Street and the area neighborhood spoke in opposition to expanding the post office at the current site. The proposed new building would be owned by the U.S. Postal Service.
READ MORE:
Residents upset over proposed post office relocation
The representatives of the postal service toured the city prior to the meeting to look at available properties and land.
Public comments and appeals on the matter will be accepted until Oct. 3, 2019 and can be sent to Vee Spikes, Real Estate Specialist, USPS, at vee.a.spikes@usps.gov or by calling (309) 664-4627.
Plymouth Voice.
Photo: © Don Howard / Associated Newspapers