Plymouth mayor pro-tem resigns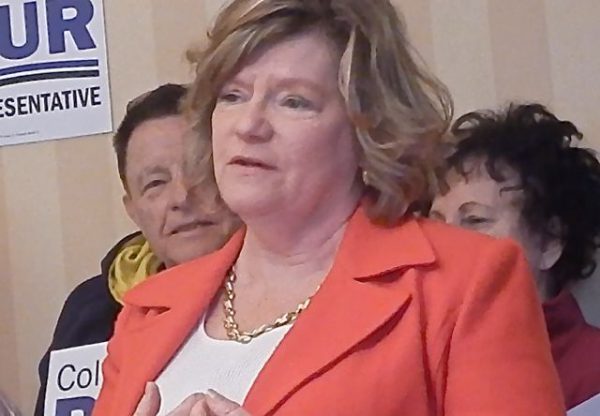 Jan. 20, 2019  PLYMOUTH EAGLE.
Plymouth Michigan News
Don Howard
Staff Writer
City of Plymouth Mayor Pro-tem Colleen Pobur announced last week at the regular Plymouth City Commission meeting that she will leave the elected position at the end of this month.
Pobur said she has taken a job as a district director for newly-elected U.S. Congresswoman Haley Stevens, a former Obama administration official. Stevens, D-Rochester Hills, was just sworn-in as the U.S. representative of the Michigan 11th Congressional District. Stevens replaced Republican David Trott, elected in 2014, who opted not to seek reelection in 2018.
Pobur is now working in the district that comprises a portion of northwestern Wayne and southwestern Oakland counties.
Pobur has had a varied political career. She's been mayor pro-tem since November 2014, serving during a period of controversy and turmoil regarding the number of liquor licenses allowed in a city of 10,000 residents.
In August 2016, the 59-year-old Plymouth resident unsuccessfully took on former Baptist pastor Jeff Noble for a seat in the Michigan House of Representatives, formerly filled by Kurt Heise, R-Plymouth, who was term limited.
Pobur easily defeated John J. Sullivan in the District 20 Democratic primary, but lost to Noble 46 to 53 percent in the Nov. 8 General Election, despite numerous endorsements from Michigan AFL-CIO, Equality Michigan, American Federation of Teachers, Planned Parenthood, Plymouth Police and Command Officers Association, Michigan Women Win and Pride Source, among others. Campaign finance records show Pobur had received large sums of contributions and raised about $122,000 to Noble's $83,000.
Before becoming a Plymouth City Commissioner, Pobur was appointed by former Michigan Governor Jennifer Granholm in 2008 to the bipartisan Michigan Liquor Control Commission to represent Michigan Democrats for a 4-year term.
Experienced in Lansing, Pobur later served on the City of Plymouth Liquor Review Board and during her tenure as Commissioner in 2014, voted in favor of changing alcohol management and zoning ordinances to raise the cap of 14 licenses in the downtown area. By early 2018, the recommendation to the State Liquor Control Commission by the City of Plymouth included the recommendation for three additional licenses, bringing the total to 28 for the 2-square- mile city. The Plymouth City Commission unanimously approved the renewal and the increase in the liquor license cap from 14 to 16 for those establishments inside the downtown city limits and from 11 to 12 outside the DDA, Downtown Development Authority district.
According to Linked-in, Pobur worked for the Detroit Metro Wayne County Airport as Director of Concessions and Quality Assurance from 1995 to 2000. Prior to joining Stevens' team, she was president of EZ Payment Systems Michigan where she worked from August of 2012 until December of last year.
Pobur earned her bachelors degree in French from the University of Michigan Honors College in 1981.
Plymouth Voice.
Photo: © Don Howard / Associated Newspapers