Plymouth Fife & Drum Corps hits the road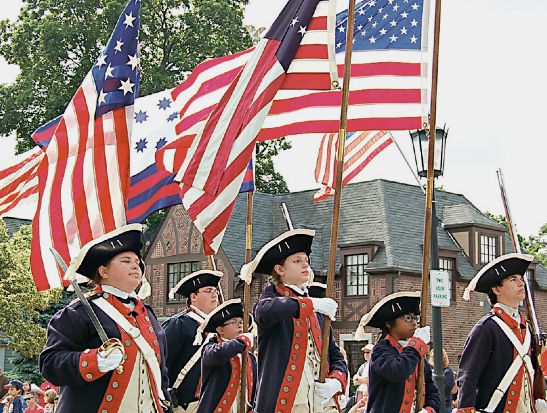 July 16, 2013  PLYMOUTH EAGLE.
The Plymouth Fife & Drum Corps, seen so proudly marching in the Northville and Plymouth Independence Day parades last week, is now bound for Philadelphia for five scheduled performances, July 15 – 17. Their last visit was in 2005.
"We've been preparing for our return to Philadelphia since October. Everyone at all the venues has been extremely helpful. Fort Mifflin is extending their hours especially for us, so visitors can come after work to enjoy a twilight performance. I think everyone in Philadelphia is in for a real treat. We're looking forward to a great turn out at all our performances," said Lisa LiGreci, the Ways and Means Chairman for the Plymouth Fife & Drum Corps.
After they complete their performances in Philadelphia, the marching band members will travel northeast to Deep River, CT to participate in the International Ancient Muster, July 19 and 20. Fife and Drum Corps travel from all over the world to take part in what is affectionately known as "The Colonial Woodstock". It is the largest gathering of Fife & Drum Corps in the world, LiGreci said. A tattoo kicks off the two-day event. Only the best corps' are chosen to perform at the tat- too. This year the Plymouth Fife & Drum Corps was one of the chosen tattoo Corps.
"Being chosen to perform at the Ancient Muster Tattoo is a huge honor. This speaks to how well renowned the Plymouth Fife & Drum Corps is in the fife and drum community. We are regarded as one of the best," LiGreci said.
Next, they will manage to squeeze in one last performance at The Company of Fifers and Drummers Museum in Ivoryton, CT. The corps purchased new snare drums in 1999 and dedicated an old snare drum to the Company of Fifers and Drummers in honor of Chris Williams, past president and long- time supporter of the Plymouth Fife & Drum Corps who unexpectedly passed away. The drum is proudly displayed at the museum in his honor.
The Plymouth corps will perform at Valley Forge and at George Washington's headquarters, LiGreci noted.
|News Plymouth Michigan