The National Weather Service issues special heat advisory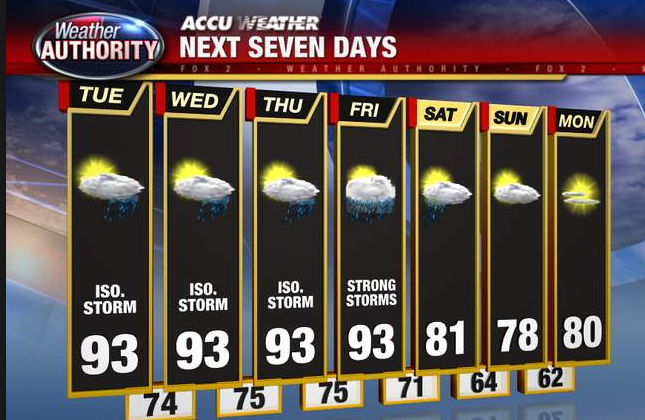 July 16, 2013  PLYMOUTH VOICE.
The National Weather Service has issued a special heat advisory. A strong high-pressure system will present dangerously high temperatures combined with very humid conditions this week.
The forecast is calling for temperatures rising into the 90's that will result in heat indexes around 100 degrees across southeast Michigan. There will be little overnight relief with humidity persisting and lows only falling to around 75.
A HEAT ADVISORY MEANS THAT A PERIOD OF HOT TEMPERATURES IS EXPECTED. THE COMBINATION OF HOT TEMPERATURES AND HIGH HUMIDITY WILL COMBINE TO CREATE A SITUATION IN WHICH HEAT ILLNESSES ARE POSSIBLE. DRINK PLENTY OF FLUIDS…STAY IN AN AIR-CONDITIONED ROOM…STAY OUT OF THE SUN…AND CHECK ON RELATIVES AND NEIGHBORS. CHILDREN AND PETS SHOULD NEVER BE  LEFT UNATTENDED IN VEHICLES UNDER ANY CIRCUMSTANCES.
In Canton the Department of Public Safety has announced, Canton's Summit on the Park
and public Library are open for Canton residents to seek relief from the heat.
Hours:   Canton Public Library            
            1200 Canton Center Rd.
            Hours:  Monday thru Thursday  9am – 9pm
            Friday and Saturday 9am – 6pm
            Sunday 12pm – 6pm
            734-397-0999
Hours:  Summit on the Park
            46000 Summit Parkway
            Hours:  Monday thru Friday 5:30am – 10pm
            Saturday   6am – 8pm
            Sunday 7am – 8 pm
            734-394-5460
|News Plymouth Michigan