Plymouth businesses protest 'lack of forethought'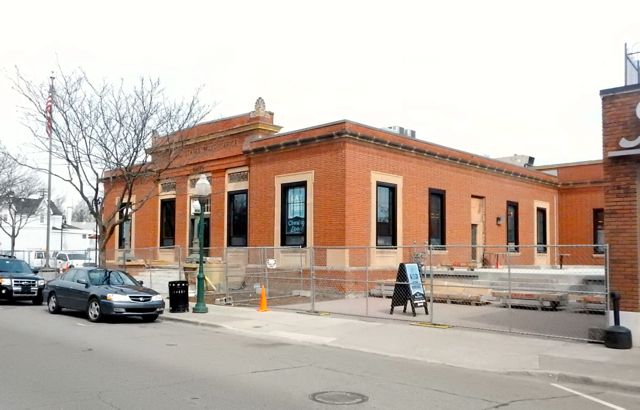 Westborn Market under construction at the site of the former Plymouth Post Office will include a 90-seat restaurant
Photo: © Don Howard / Associated Newspapers
May 17, 2016  PLYMOUTH EAGLE.
Plymouth Michigan News
More than 20 businesses signed a letter presented to members of the Plymouth Liquor License Review Committee last week, citing a "lack of forethought" in the approval of new businesses in the city.
The letter came as the commission is in the process of allowing one more new liquor license in the downtown area of the city, going from 14 to 15, and two businesses, one new and one established, both petition for permission to serve alcohol by he class.
The new "revised alcohol management ordinance" includes the decision to increase the number of licenses in downtown Plymouth.
Bob Ostendorf of Stella's Black Dog Tavern told the commissioners that the real issue with the current business owners is parking. He said that the owners feel that they are all losing business because of the lack of parking in the downtown area.
Owners of the nearly completed new Westborn Market in the former post office on Penniman Street have requested a permit to sell alcohol at the 90-seat restaurant included at the new business. Westborn has included more on-site parking in the plans than is required by the city.
Committee member Colleen Pobur told the business owners that parking was a consideration in all the approvals the new Westborn Market had been granted. The committee members also explained that several attempts have been made to increase parking, include the purchase of the property at the corner of Ann Arbor Trail at Deer Street which now offers 40 free public parking spots.
Mayor Dan Dwyer, also a member of the committee, said that the parking situation is the most challenging issue with which he has dealt. Dwyer agreed with the business owners who attended the meeting that their input into the parking problem before any changes were made to the current limit would be welcome.
While the members of the committee approved the draft of the new alcohol management ordinance, the liquor license request from the new business remained tabled.
Greek Islands Coney Island, a business that has been established in downtown for several years, has repeatedly applied to the committee for such a license but has been turned down due to the 14 license limit.
Plymouth Voice.