Annual Rouge Rescue seeking area volunteers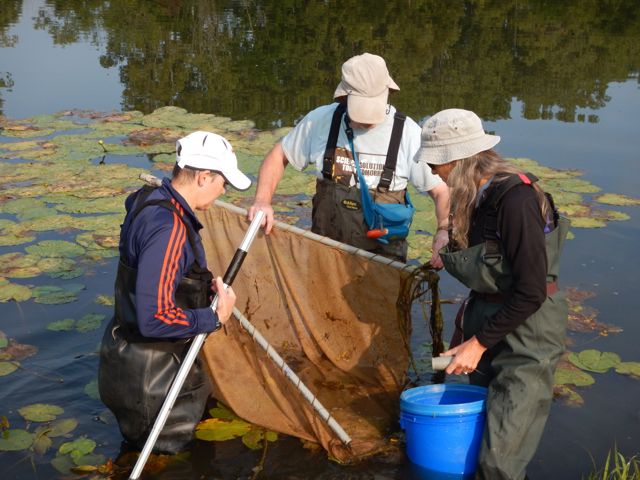 Environmentalist from Friends of the Rouge inspect the McClumpha Park pond in Plymouth, August 2015.
May 18, 2016  PLYMOUTH EAGLE.
Plymouth Michigan News
Friendly persuasion
Some very special friends will converge on the Rouge River this month to help protect the waterway and the environment.
Volunteers will join members of Friends of the Rouge to transform 28 project sites along the Rouge River in 17 communities during the 30th annual Rouge Rescue event May 21. Additional work days will also take place at various locations throughout May and June.
"This year's Rouge Rescue event is special because it celebrates 30 years of progress in both water quality and community involvement," said Cyndi Ross, river restoration program manager for Friends of the Rouge. "It's rewarding to see the community come together to make positive change in the watershed, but our efforts are far from over, and we can't do it alone."
Friends of the Rouge is recruiting more than 2,000 volunteers to participate in the river restoration effort to improve the ecosystem within the Rouge River watershed. Volunteers will help with habitat restoration by removing trash, debris, and invasive species, planting native trees and wildflowers, and building and maintaining land and water trails.
"After 29 years of cleanup efforts, we're seeing less dumping and more recreation along the river," Ross added. "We also have a wider variety of wildlife along the river than 30 years ago. Today, more than 75 species of fish and amphibians call the river home, one of the telltale signs of improvement."
Last year during the Rouge Rescue, volunteers were responsible for removing 110 cubic yards of trash and 230 cubic yards of invasive species as well as planting more than 2,300 native plants and maintaining more than 3,000 feet of trails, Ross said.
Since 1986, more than 57,000 Friends of the Rouge volunteers have contributed more than 140,000 hours at Rouge Rescue events and removed enough trash to fill more than 2,000 garbage trucks, she added.
Communities benefiting from the 2016 Rouge Rescue include Beverly Hills, Birmingham, Canton, Dearborn, Dearborn Heights, Detroit, Farmington Hills, Livonia, Northville, Northville Township, Novi, Plymouth, Plymouth Township, Southfield, Wayne, and Westland.
Major sponsors for the 2016 Rouge Rescue include Americana Foundation, Bosch Community Fund, Consumers Energy Foundation, Denso International America, Inc., Erb Family Foundation, ITC Holdings Corp., Lush Cosmetics, Masco Corporation Foundation, and Pure Oakland Water.
For more information about Rouge Rescue or to volunteer for a project site near you, visit www.therouge.org.
Join the City of Plymouth in cleaning up the Rouge River watershed
Volunteers should meet at the Riverside Recreation Area/Riverside Comfort Station on Hines Drive West of Haggerty at Riverside Drive, 42401 Hines Drive, Plymouth, MI 48170.
Email Greta at gbolhuis@ci.plymouth.mi.us or Adam at agerlach@ci.plymouth.mi.us to register or call Greta at (734) 453-1234 ext 224.
Plymouth Voice.
Photo: © Don Howard / Associated Newspapers