Martin Luther King Day celebration set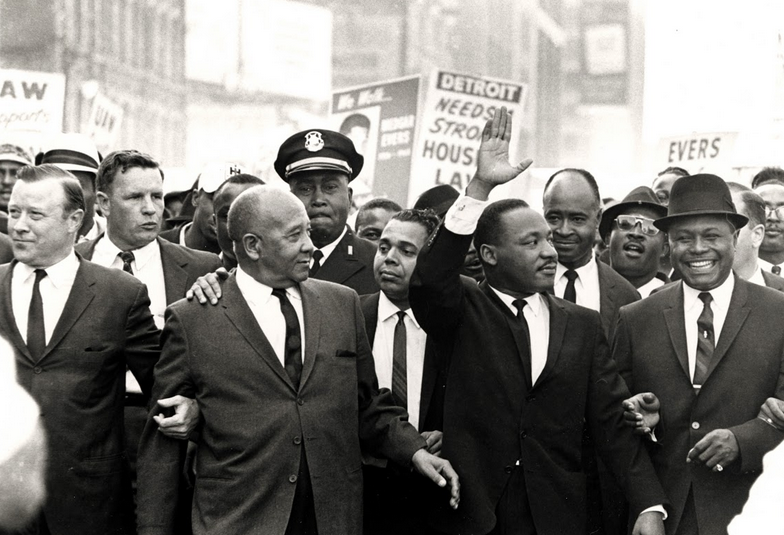 Dr. Martin Luther King, Jr. Woodward Ave, Detroit, 1963
Jan. 12, 2017  PLYMOUTH EAGLE.
Plymouth Michigan News
Canton Township will once again honor the memory and legacy of Dr. Martin Luther King, Jr. with a special tribute, "Canton Celebrates Dr. Martin Luther King, Jr." Monday, Jan. 16 at The Village Theater at Cherry Hill, located at 50400 Cherry Hill Road.
A punch and cookie reception will begin at the Village Theater at 6 p.m., followed by the main program at 6:30 p.m. This annual event is presented by the Canton Commission for Culture, Arts, and Heritage, members of the Dr. Martin Luther King, Jr. Sub-Committee, and Canton Township.
The keynote address this year, Be the Difference, will be presented by Plymouth-Canton Community Schools Superintendent Monica L. Merritt. Merritt, who hails from Alexandria, VA, has extensive experience as a teacher, principal and administrator and resides in Plymouth Township with her family. Monica is the daughter of Carol and Herman Boone, who received great attention and accolades for his time as football coach of the TC Williams High School, as portrayed in the Disney movie, "Remember the Titans" (2000).
The program will also feature music by the Workman Elementary School Choir under the direction of Keri L. Mueller, additional music will be provided by the Interfaith Community Outreach (ICO) Choir directed by Inderjeet Talwar, along with a presentation by spoken word artist, Khadega Mohammed.
Tickets to the program are available at the door at $2 per person or $5 per family; exact cash appreciated. The reception is sponsored annually by Darian and Ralynda Moore of Keller Williams Realty of Plymouth.
For more information, call (734) 394-5300 or visit www.cantonvillagetheater.org.
Plymouth Voice
Photo: Tony Spina/Detroit Free Press