Man charged with 12 counts of child pornography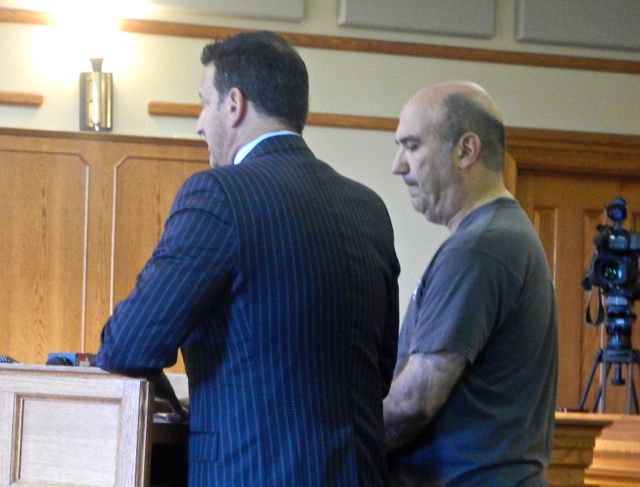 Northville resident James Ciccarelli with lawyer Neil Rockind at arraignment before Judge James Plakas in the 35th District Court
Aug. 18, 2015  PLYMOUTH EAGLE.
Plymouth Michigan News
Don Howard
Staff Writer
James Anthony Ciccarelli, 53, a 30-year resident of Northville Township, was arraigned last Tuesday in 35th District Court on 12 felony counts of child pornography.
Ciccarelli, married for more than 30 years, has two grown children, according to police investigators and led two different lives until 3 months ago when the Michigan State Police (ICAC) Internet Crimes Against Children Task Force armed with a search warrant confiscated his computer and cell phone.
Ciccarelli was arrested at his Northville home at 5:30 a.m. the same day and was arraigned before Judge James Plakas. He entered a not-guilty plea to all 12 charges including three counts each of distributing or promoting child sexually abusive activity, possession of child sexually abusive material, using the internet to communicate with another to commit a crime and using a computer to commit a crime.
Northville Township Police Detective John Huerta told the court the crime force investigation during a 3-month period revealed Ciccarelli had volumes of images and videos of child sexually abusive material and lewd photographs of women taken in stores and malls that he had captured on his cell phone.
Southfield attorney Neil Rockind, representing Ciccarelli, requested bond of $10,000 or 10 percent noting that Ciccarelli had no criminal history or police record, no history of drug or alcohol abuse and was in therapy.
"Ciccarelli could have fled during the period of the investigation, he could have destroyed evidence. Everything about his life exudes stability," Rockind argued. Plakas set bond at $100,000 or 10 percent and Ciccarelli was ordered not to have any contact with minors, no internet usage, no cameras, no video recorder and limited telephone use between him and his attorney.
Rockind said, "There's a temptation to rush to judgment. Jim's been an upstanding member of the community for 30 years."
Plymouth Voice
Photo:  Don Howard / Plymouth Eagle