Local family fights eviction by township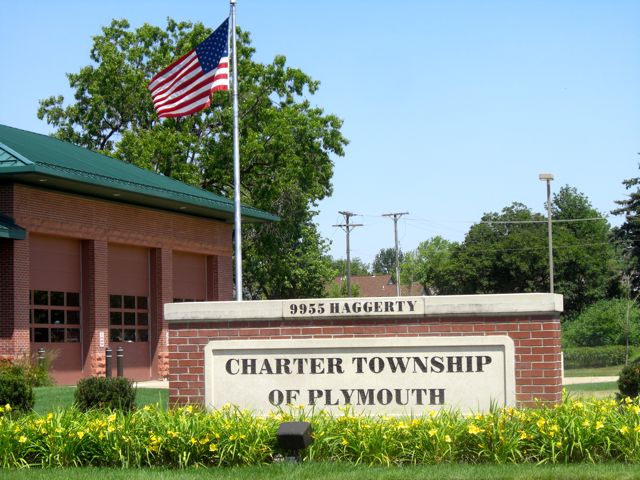 Sep. 30, 2016  PLYMOUTH EAGLE.
Plymouth Michigan News
Don Howard
Staff Writer
A routine building inspection has turned into a nightmare for Plymouth Township business owner Pat Gallagher.
Gallagher, 51, the owner of Restoration Station on Ann Arbor Trail, was charged with a zoning violation after a township fire department inspector visited his building in May and found him and his family living on the premises in an attached building. Fire Inspector Bill Conroy then reported the violation to the township ordinance officer, who issued a "Notice of Correction" ordering Gallagher and his family to vacate the property by June 28.
Court documents show Gallagher, who is rumored to have lost his home several years ago, converted one half of the building into residential use and resides there with his wife and children, ages 9 weeks and 15 months.
Gallagher's land on Ann Arbor Trail is zoned C-1 and comes under township adopted ordinance No. 99, Neighborhood Shopping District. The ordinance specifies principle permitted uses, none of which specifically rule out Gallagher's business of rebuilding, refinishing and restoring wood furniture. However, Gallagher applied for and received a Special Land Use permit from the Township Planning Commission in 1999 that allows his type of business operation. The ordinance does not allow or restrict residential occupancy, per se.
Within a month of the Notice of Correction, township attorney and prosecutor Kevin Bennett filed a complaint in the 35th District Court citing the ordinance violation. A summons was issued and an arraignment scheduled for Aug. 26.
Gallagher, represented by Plymouth attorney Kenneth Harrison, applied for and received approval of a Temporary Restraining Order in the Wayne County Circuit Court, prohibiting the township from evicting him and his family from their home.
Gallagher was granted a preliminary injunction at a show cause hearing before Judge Daphne Means Curtis on Sept. 20. Harrison argued that Gallagher would suffer irreparable harm and loss if the township were permitted to enforce the current zoning ordinance in "what is alleged to be a legal non-conforming use." His verified complaint said enforcement would make the family homeless and taking the property without just compensation is in violation of both state and federal constitutions.
The property located near Haggerty Road is the former Tommy's Hardware. Gallagher, through his attorney, claims the owner of that business also resided on the property with his family.
The violation notice was discussed at the Sept.13 meeting of the Township Board of Trustees when Bennett and Chief Building Official Mark Lewis sought direction.
Both said they thought Gallagher was placing his family in harm's way and the current situation was a tragedy in the making. "I don't know what's behind that wall…" Lewis said. Bennett told board members that C-1 zoning does not allow a residence for principal or special use.
Lewis described Gallagher's work on constructing the living quarters as "beautiful," but said he feels his business operations with the solvents and materials he regularly uses are not safe. "It's like having a huge garage in your home…We're concerned about saving lives," Lewis said.
Harrison said he thinks it is a matter of non-conformity. "In Old-Town there's zoning where you can have a business and residence together. It's a contested issue-there's merit to both sides, and it's going wind down to a factual matter which has to be decided by the court."
Trustee Chuck Curmi told board members he felt there was a problem with inconsistencies in the ordinances.
"This is a sticky situation because you're going to have a homeless family…I want to figure out a way to work this out… I don't want these people to be out in the street in the winter."
Supervisor Shannon Price affirmed he wanted to work with the Gallagher family "…and look at health and safety issues."
A trial date has been set for Feb. 27, 2017 in Wayne County Circuit Court.
Plymouth Voice.