Lawsuit to eliminate candidates fails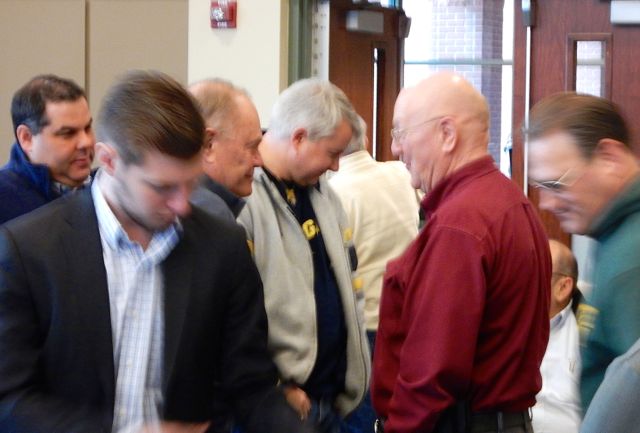 Carl Berry, (red shirt) and Republican Party leaders whisper in Township hall one week before Shannon Price's official appointment, March 2015.
Photo: © Don Howard/Associated Newspapers
Jun. 11, 2016  PLYMOUTH EAGLE.
Plymouth Michigan News
Don Howard
Staff Writer
A circuit court judge has ruled that Plymouth Township candidates Kurt Heise and Don Schnettler will be on the primary election ballot Aug. 2 despite a lawsuit attempting to have their names removed.
Wayne County Circuit Court Judge Brian R. Sullivan issued a court order June 1 stating the plaintiff in the suit, Plymouth Township resident Carl Berry, 76, failed to show reasonable cause for removing the candidates' names and ended his legal action.
A public hearing of the issue took place May 25 in the City County Building in Detroit after Berry filed suit to block Heise and Schnettler's candidacies.
Heise is the lone challenger to incumbent Plymouth Township Supervisor Shannon Price while Schnettler is seeking a term as a township trustee. Berry's lawsuit, funded by the Faith and Freedom Coalition, requested that Plymouth Township Clerk Nancy Conzelman, named as a defendant, immediately remove Heise and Schnettler's names from the ballot as they did not designate the voting precinct in which they live on their candidate affidavits of identity.
Berry contended in the 50-page court filing that Heise, currently a term-limited state representative, and Schnettler, a long-time township resident, should not be allowed on the ballot due to the discrepancy.
In addition to Conzelman, Berry named Wayne County Clerk Cathy Garrett, the Wayne County Election Commission and the Plymouth Township Election Commission as defendants in the court filings and asserted they may have been dilatory in not requiring the missing information.
Berry, a self-described supporter of Price, insisted he acted on his own volition and initiative when he retained attorney Robert Huth Jr. of Kirk, Huth, Lang and Badalament to research and prepare the lengthy court brief. Calling himself a Republican activist Berry said, "I do this a lot." Berry said at the time he "had no idea" as to the legal fees or the cost of the suit.
A footnote on page 1 of the complaint references Faith & Freedom/Plymouth Township, a 501(C)(4) social welfare non-profit which permits donors to remain anonymous. The Faith and Freedom logo recently appeared on controversial mailers sent to Plymouth residents aimed at discrediting Heise's support of certain state legislation.
"I'm pleased with the court decision that dismissed this frivolous lawsuit financed with a dark money PAC (Political Action Committee)," Heise said after learning of the decision. Schnettler agreed and said he felt, "A lot of the tricks they're pulling are backfiring-it shows how desperate they are."
Sullivan's court order returned the status of the candidate applications to status quo and denied Berry's request for attorney fees and court costs and included language ending the proceedings.
Plymouth Voice.