Last of WWII officers – Battle of the Bulge dies at 104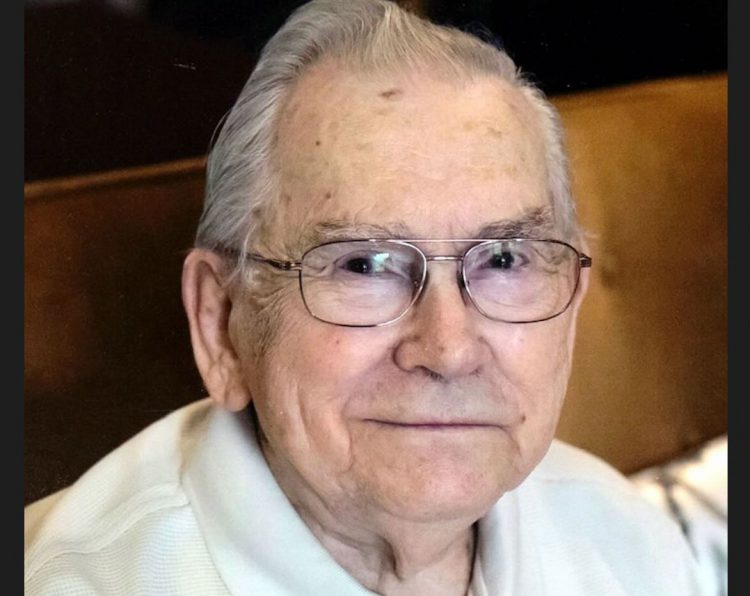 Sep 22, 2022  PLYMOUTH VOICE.
Plymouth Michigan News
Our country lost a true World War II hero this month with the passing of Northville resident Lt. Thomas Holmes at the age of 104.
Lt. Holmes is believed to be the last of the 10th Armored Division officers who courageously fought In the Battle of the Bulge during the Siege of Bastogne –  the last major offensive campaign during World War II.  He had the responsibility of leading soldiers during the Battle of Bastogne as Allied forces pushed into occupied France.
The 1st Armored Division, America's Tank Division, honored the life and service of Lt. Holmes by flying a U.S. flag over Fort Bliss, Texas which was then laid on his casket by family members during a funeral September 19, in Livonia.
Solders of the 3rd Brigade, 1st Armored Division raised, lowered and folded the the flag for Lt. Holmes over their headquarters at Fort Bliss.
The decorated Army veteran served under General Patton in Germany, France and Belgium on the western front known as the Ardennes Offensive; fought from December 1944 to January 1945.  Lt. Holmes' first combat engagement was with the 90th Infantry Division Reconnaissance Unit, Troop D. Because of his leadership he and his Troop received a Presidential Unit Citation. Lt. Holmes received a Silver Star with Oak Leaf Cluster, Bronze Star with Oak Leaf Cluster, French Croix de Guerre, the Bronze Star of Belgium and the Purple Heart.  He and his men heroically held the city of Bastogne during the siege until the 101st airborne was able to relieve them
While serving during the battle of Crailsheim Lt. Holmes suffered a severe head injury which later forced his early retirement from Chrysler Corporation, where he was employed as a tool and die worker. Being a graduate of Wayne University in Detroit  he then pursued a teaching career in Dearborn, retiring as a middle school principal in 1980.
Lt. Thomas Henry Holmes of Northville, passed away on Thursday, September 8, 2022.  He was preceded in death by his loving wife, Shirley. Beloved father to Pamela (late Robert) of Northville, Kreda and Nicholas (Alison). Cherished grandfather to Nicholas, Ryan, Jordan, Tom, and Alisa. Dear great-grandfather to Haley, Andrew, Jill, Joe, Charlotte, Abby, Sam, and Robert Jeffrey "RJ". Brother to William.
Funeral arrangements were handled by the Harry J. Will Funeral Home.
Plymouth Voice.