Is it School-Craft or is it Schoolcraft?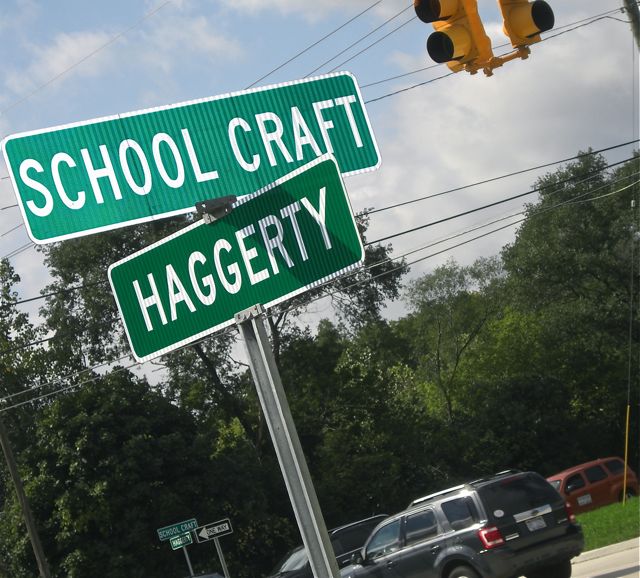 Oct. 7, 2013  PLYMOUTH VOICE.
This ironical misspelling is almost comical.
It's a mockery of man's name who himself was a wordsmith.
Apparently the person who works in the sign shop in Wayne County and created the new School-Craft signs, just installed at Schoolcraft and Haggerty Road, never heard of Henry Rowe Schoolcraft, geographer, geologist, ethnologist and Indian agent who's name is ubiquitous throughout Michigan and mid-west.
Perhaps they never traveled too far out of Plymouth Township or ever heard of Schoolcraft College, Schoolcraft County, Schoolcraft Township in Houghton and Kalamazoo County, or Schoolcraft Township in Hubbard County.
They most likely never heard of the Schoolcraft River.
Maybe they thought the name of the main artery in Plymouth Township was something one learns in school.
Or, maybe they just didn't think.
In 1839 Schoolcraft received his appointment as Superintendent of Indian Affairs in the Northern Department.
It was Schoolcraft who worked for years on the history and survey of the Indian tribes of the United States, who named many of the Michigan Counties, like Leelanau, named after his Indian wife Leelinau.
Schoolcraft also created many faux Indian names in Michigan, like Alcona, Algoma, Allegan, Alpena, Arenac, Iosco, Kalkaska, Oscoda and Tuscola by combining words and syllables from Latin and Arabic.
It was Schoolcraft who founded and contributed to the first United States journal on public education, The Journal of Education and the first literary magazine in Michigan, The Souvenir of the Lakes.
Then there is Schoolcraft State Park in Minnesota, the Liberty ship SS Henry R. Schoolcraft, launched in 1943, and on and on, and on.
So be it. We'll forgive Wayne County and watch for the sign change any time soon.
|News Plymouth Michigan
Historical Source: Wikipedia