Inaugural run honors memory of past emergency first responders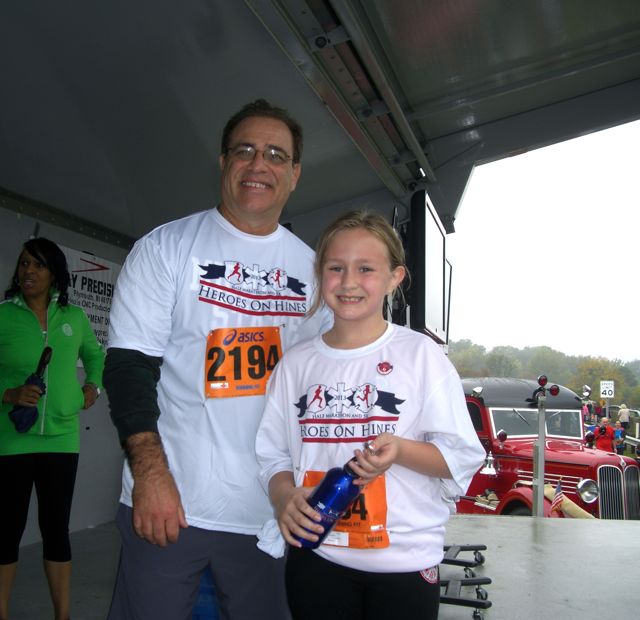 Oct. 13, 2013  PLYMOUTH EAGLE.
Wayne County Executive Robert Ficano will lead the official dedication ceremony for the First Responders Memorial this Thursday, Oct. 17, at 1 p.m. at Hines Drive and Haggerty Road in Plymouth Township.
Heroes on Hines
A rainy start didn't slow down or dampen spirits of runners from 7 to 81 in the first Heroes on Hines Run last Saturday.
Wayne County hosted the inaugural half marathon and 5K run, honoring first responders of police, fire and EMS personnel who have lost their lives while on duty within Wayne County. The county, in partnership with Running Fit, produced the event.
"The memorial and the annual Heroes on Hines races are powerful remembrances to the brave men and women who lost their lives while serving as first responders in a Wayne County community," said Wayne County Executive Robert Ficano.
Runners and attendees included Wayne County officials, mayors, police, fire, EMS personnel and family members of those who lost their lives in the line of duty. Participants received a technical race shirt for all distances and finisher's medal for half marathon distance.
The Heroes on Hines course traveled through the western Wayne communities of Plymouth and Northville and the northwest end of Hines Drive. Both the Half Marathon and 5K started and finished at the newly-constructed memorial site.
Proceeds from the annual race go to support and maintain the First Responders Memorial in Hines Park, which is scheduled to be dedicated in a ceremony at 1 p.m. Thursday, Oct. 17. The memorial will initially display the names of 401 police, fire and EMS personnel from Wayne County communities who died in the line of duty. The memorial includes monuments, seat walls, concrete walkways, a paver plaza, site furnishings, plantings as well parking and lighting.
The still-under-construction memorial is located at Haggerty and Edward Hines Drive in Plymouth Township.
Ficano said he was very pleased at the turnout of runners for the event.
It was Ficano's idea to erect a lasting memorial to the first responders after being moved by a minister's sermon shortly after the 9-11 attack in New York.
"Just the picture taken shortly after the first plane crashed into the World Trade Center showing the people running downstairs while the firefighters were running up, is what really inspired me to do something," Ficano said.
Ficano ran in the 5K along with his senior communications manager Kevin Byrnes.
There were 1,130 pre-registered runners with 30 from other states and four from other countries. The half marathon finishers received medals marking their participation in the event.
|News Plymouth Michigan