Greetings from the Mayor of Northville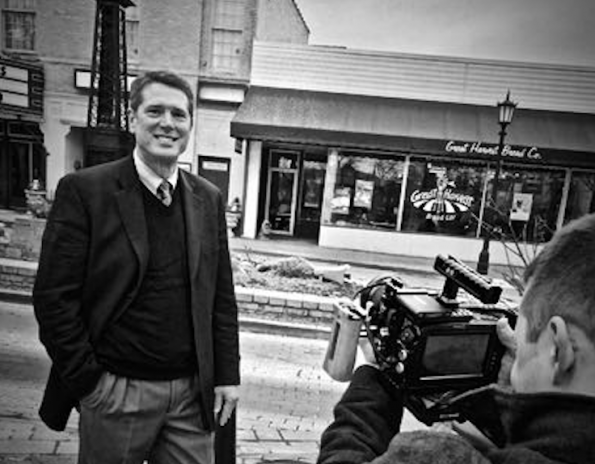 Feb. 19, 2021  PLYMOUTH VOICE.
Plymouth Michigan News
Office of the Mayor
Northville, Michigan
February 18, 2021
Dear Northvillians and Friends,
This week, I will close the chapter on the Northville "Gateway Series." We will look at an iconic industrial touch point in our community. Additionally, you will hear "the rest of the story" as to why one of the nation's true entrepreneurs spent his time in The Ville.
Let's first take a look at COVID-19 activities and pertinent information
• The Biden administration announced additional steps this week to increase vaccine supply to states nationwide and provide National Guard support for COVID-19 activities. For questions regarding COVID-19, call 211. (Michigan.gov)
• Northville has two super-vaccination centers presently – one at Meijer (8 Mile/Haggerty) with 20 vaccination stations and the other at Schoolcraft College, which will convert to public inoculations soon after completing services for first responders, medical support personnel and teachers. (Michigan.gov)
• Earlier this month, CVS was approved for the vaccine rollout in 11 states, including Michigan. Appointment scheduling will be available at CVS.com, through the CVS Pharmacy app or by calling 1-800-746-7287. CVS employees are going through training next week. (The Northville location, after employees receive their refrigeration unit and complete training, will become a super-vaccination center with six stations and multiple pharmacists administering the vaccine). (CVS.com)
• Rite Aid has also gone through COVID-19 vaccination training and is beginning to take appointments in our area for citizens who are 65 years and older.
• COVID vaccinations are now underway at many retail pharmacies. It is highly recommended that you sign up on wait lists wherever you can. There is no charge to receive the vaccine. (The Wall Street Journal)
• As of now, only Pfizer-BioNTech and Moderna (both two-dose vaccines) have received emergency use authorization from the FDA. (wwj950.news)
• COVID-19 confirmed cases: Northville has had 194 cases/7 fatalities, the Township: 1,452 cases /46 fatalities, Michigan: 629,000 cases/16,000 fatalities, the Nation: 28 million cases/488,000 fatalities and Global: 109 million cases/2.4 million . (CDC)
Now let's transition to the last Northville gateway in this series – We will explore Henry Ford's iconic Valve Plant (designed by Albert Kahn), now known as the Northville Water Wheel Centre.
The Northville Valve Plant is one of the most historic compounds in the area for multiple reasons. It started with Henry visiting Northville in the 1800s to see his cousin and others. He attended square dances here and also spent his honeymoon in The Ville. He loved this "Hamlet in the Hills" so much that through the years, there have been few towns other than Dearborn that he shared his time and talents with more. He helped rebuild the Ambler Pond/Balboa Lake dykes (where 7 Mile is today between Sheldon and Rogers). Henry would ride the street cars into town early on, and he even tried to buy the historic Opera House for Greenfield Village. Ford donated the land for Ford Field and Mill Race Village, and built an iconic industrial masterpiece here.
Albert Kahn design – In 1935, Henry Ford decided to build an incredible plant in town to replace his previous structure and have space for 1,000 employees. He chose world-famous architect Albert Kahn to design it. All the valves of Ford engines from Model T's to Thunderbirds, Mustangs and Fordson tractors were produced in Northville. The plant even produced Pratt & Whitney airplane motor parts during WWII. I bet you didn't know that Northville was part of the Arsenal of Democracy.
Henry and Clara Ford celebrated their golden wedding anniversary in town at a square dance, reminiscing about spending their honeymoon up on Center Street. When the Fords were here in 1888, their mode of transportation was horse and buggy. They walked the beautiful riverbank where today, we are readying to begin work on our historic Riverwalk initiative. "They absolutely loved this place," said my grandfather who helped wire the new plant for Mr. Ford in 1936.
Historic visitors – Henry Ford, Charles Lindbergh and Capt. Eddie Rickenbacker visited the Northville Plant in 1940 and approved of the plant and the grounds.
On the National Register – The Northville Valve Plant was the first of Henry Ford's "Village Industry" plants to go into operation in 1919 and the last to close in the 1980s. In 1995, the Northville Plant was honored by being named to the National Register of Historic Places. Albert Kahn designed more than 1,000 projects for Ford and is renowned worldwide.
From 1875 to Demray Dental – Additionally, little is spoken about the plant manager's home, which was on the compound and still stands proudly today. It has been lovingly restored by my friend Dr. Bill Demray whose dental practice, Preservation Dental, still resides in this place. At one time, he also lived there. The lumber in this 1875 home was cut on-premise by the water-powered sawmill where the Mill Race Village is today. Dubuar had the sawmill and Yerkes had the flour mill (Gold Lace), which eventually became Northville Milling and Lumber Company (the oldest business in Michigan dating back to 1827).
Before Dr. Demray lived in this house (371 E. Main), Mayor Mike Allen lived and ran his business out of this building just as Dr. Demray did decades later.
I encourage you to walk the grounds of the Water Wheel Centre, Ford Field and the Mill Race Village. Imagine the past and envision the future as we create an historic Riverwalk, renovate our Ford Field greenspace and welcome the next century by making this area an accessible and wonderful gathering place.
Keep that Northville Historic Faith!
Stay #NorthvilleStrong! And visit Northville Community Support Fund
Brian Turnbull
Mayor – Northville
Plymouth Voice.