Furious residents threaten future of township officials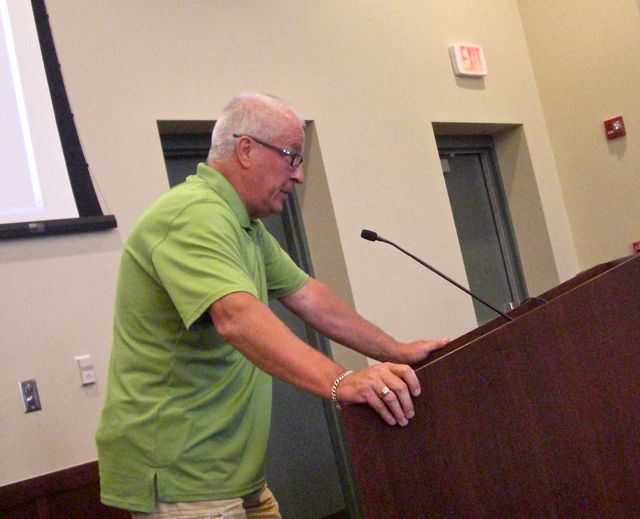 Gallery Photo: Randy Jost-Plymouth Township Compensation Commission Member
WATCH VIDEO
Jul. 23, 2014  PLYMOUTH VOICE.
Plymouth Michigan News
Hundreds of angry Plymouth Township residents roared at Tuesday's Board of Trustees Meeting protesting new rules of conduct designed to stop public comment and sensor critics of a new 400-seat amphitheater. Officials who defended their actions said "the comments and the people are getting out of hand."
Picketing in front of Township Hall the residents from neighborhoods near the proposed amphitheater site in the township park expressed their frustration and voiced their concern about the project. In the meeting room they spoke-out regarding what they called lack of leadership and poor decisions made by township officials. Many commented that trustees have failed to determine the wishes of residents, neighbors and the majority of the taxpayers before moving forward making major project commitments. United in fast-growing numbers they are attempting to stop what they say is careless spending. They are demanding accountability and making known they want to have an opportunity to vote on issues that threaten their lifestyle and personal safety. The amphitheater is estimated to cost $350,000.
One upset resident who commented was Randy Jost. Jost was appointed to the Plymouth Township Compensation Commission last September by Township Supervisor Richard Reaume and Treasurer Ron Edwards and voted on the five-member commission to increase the officials salary by 3.5 to 4.5 percent in 2014.
"It almost pains me to be standing here." Jost said. "I supported each and every one of you…contributed to all of your campaigns… Do the job I elected you to do." Jost told board members.
"Lets make it clear, it's not a small vocal group who's objecting to this." said Trustee Bob Doroshewitz.
By the end of the meeting, there was no vote on the amendment to the rules.  Attendees said the fact that this amendment is even being considered is "enough" for most.
Treasurer Ron Edwards and Clerk Nancy Conzelman drafted the rules amendment.
The board says since they could not agree they will hold a study session next week to go over the proposed changes.
Plymouth Voice.
Video: Fox 2 News-Detroit