The automobile as art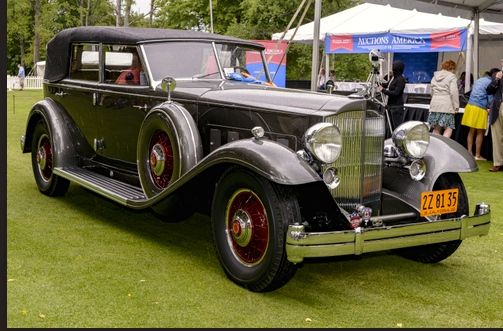 Jul. 25, 2014  PLYMOUTH EAGLE.
Plymouth Michigan News
Concours d'Elegance of America opens to public this Sunday
This Sunday, there will be $25 million worth of machines grandly displayed across the grounds of the Inn at St. John's in Plymouth Township.
The Concours d'Elegance of America will return to Plymouth Township on Sunday, July 27 and display the "by invitation only" world class automobiles across more than 200 acres of lush grounds. The showcase automobiles compete for honors during the show. Organizers said that, "classic, rare and magnificent automobiles from across the country and the world have been invited to participate this year."
"The Concours d'Elegance of America at St. John's offers visitors an unparalleled experience of elegance from another era and a once in a lifetime opportunity to see so many valuable and important automobiles at one place and at one time. The total field is valued at well over $25 million," organizers stated.
This  of classic, rare and magnificent automobiles will include 280 cars from 20 states. The exhibition will include a celebration of the 50th anniversary of the Ford Mustang, vintage drag bikes and, added this year, new super cars.
As traditional dictates, the classics of automotive design will be on display along with jet- age pickups, early motorcycles and the cars of Oscar Davis, along with some other surprises, according to organizers of the event.
"One of the exciting featured classes this year will be the evolution of the sports car. Entries include many of the most beautiful, heroic, and legendary sports cars ever conceived, plus some you might never have heard of before," organizers said. For more information, visit http://www.concoursusa.org.
Organizers said that this year the event will feature an unmatched range of innovative, one-of-a-kind automobiles that include everything from the most famous European and American race cars in history. On display will be the 1919 Paige 6-66 Daytona Speedster Prototype and the first Nash-Healy Roadster, regarded by many as the first true American sports car.
A special exhibit of the breakthrough "Forward Look" automobiles of visionary designer Virgil Exner will be featured. There will be Mode du Concours Fashion Shows throughout the event, matching vintage fashions as part of the presentation at the judges stand.
A portion of proceeds of the Concours d'Elegance of America at St. John's is designated for the College for Creative Studies, known for its pre-eminent automotive design curriculum; Hospice of Michigan; Leader Dogs for the Blind an Yatooma's Foundation for the Kids.
This is the 36th year for the world-class premier auto exhibition which will be open to the public from 10 a.m. until 4 p.m. on Sunday. The Inn at St. John's is located at 44045 Five Mile Road in Plymouth Township. Admission is $25 and includes parking, shuttle and program book.
Plymouth Voice.