Family gets help after losing everything in car fire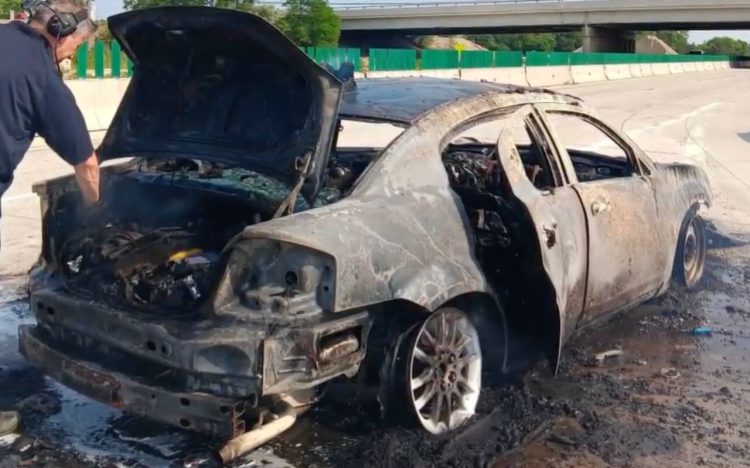 Jun. 20, 2023  PLYMOUTH VOICE.
Plymouth Michigan News
Don Howard
Staff Writer
Last Sunday Plymouth Township Firefighters responded to a car fire on the southbound Ann Arbor Road ramp to I-275. When they arrived four minutes later, they found Christina Lawson's black Dodge Avenger completely engulfed in flames.  The young mother along with her 9-year-old daughter Madison, her boyfriend, and the family dog, "Hope," escaped with only minor injuries. It was the home at-times where the family of three were forced to live when they didn't have enough money from her Door Dash job to stay at motels. The car was packed with all of their worldly possessions including the little money she had from her job.
The family needs help.
When we think of firefighters, we often think of a dedicated organized group whose job is to put out fires, save people in danger and respond to medical emergencies. They are known to connect hoses to hydrants and operate pumps. They enter burning buildings and rescue people and pets. They possess all the attributes of professionalism, integrity. They join the ranks of community helpers, like doctors, nurses, teachers and volunteers. But there's another characteristic that stands out; compassion.
After Lawson told Plymouth Township Fire Battalion Chief Pete Bukis she didn't know how she was going to feed her daughter that night, Bukis responded, "If I have to take money out of my pocket your daughter will get fed."
With the news of Lawson's tragic loss, Plymouth Township Firefighters, IAFF local 1496, pitched-in and paid for a week's stay at a local motel and made sure they had all of basic needs met.
Last year the township's union firefighters formed the Plymouth Professional Firefighters Committee, a 401C3 organization to continue their charitable work.
"We help anybody who needs help," Bukis said.
Over the years members of the township firefighters have held an Annual Pumpkin Sale at Halloween and donated all the proceeds to families in need, sponsored field trips and purchased books for book clubs. They frequently work with the Salvation Army to identify families and individuals in-need and donate to provide assistance.
Click Here for the Lawson family GoFundMe page.
Plymouth Voice.