Fallen officers remembered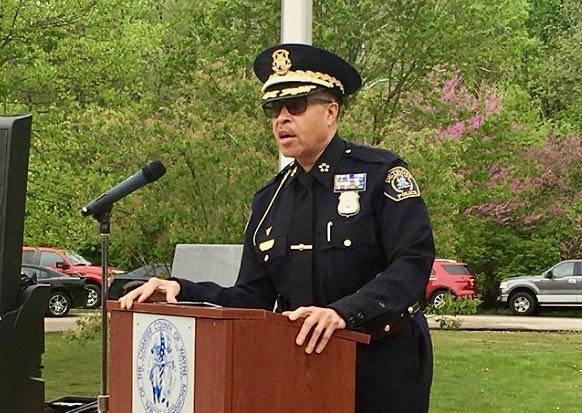 Detroit Police Chief James Craig pays tribute to the fallen first responders during the recent memorial.
Jun. 2, 2018  PLYMOUTH EAGLE.
Plymouth Michigan News
Solemn tribute
Don Howard
Staff Writer
Five years ago on rainy October day, at a 1.5-acre grassy knoll on Hines Drive just a half-mile from Plymouth Township Hall, civic leaders, county executives, media representatives, police officers, firefighters and other guests gathered to dedicate a new Wayne County First Responders Memorial. Recently, on a rainy Tuesday, another meaningful and solemn ceremony took place at the site with local and county dignitaries, police officers, firefighters and invited guests. This time the audience included the widows and family members of 10 fallen heroes whose names were added and chiseled into the seven-panel granite edifice as an eternal tribute to their selfless contribution to the community.
A presentation of colors and an invocation led by Taylor Police Chaplain Dave Edwards and Pastor Rennie Kaufmann of Risen Christ Lutheran Church in Plymouth gave way to comments by Detroit Police Chief James Craig, Detroit Fire Commissioner Eric Jones, Wayne State Police Capt. Patrick Saunders and family members honoring six Detroit police officers, three Detroit firefighters and one Wayne State University police officer who died in line of duty.
Following the presentation of the final colors and rifle volley-by the Brownstown Police Department and the Firefighters Bell Service by the Livonia Fire Department, the sobering ceremony concluded with the playing of the traditional "taps." Bagpiper Kim Johnson played Amazing Grace while Wayne County Executive Warren Evans placed the ceremonial wreath.
From ages 25 to 71, the 10 men who were posthumously honored represent the first responders, the people who will come into a smoke-filled dangerous building to find those who may be trapped inside, or the policeman who never knows the perils when approaching any situation.
Honored were:
Detroit Police Department:
Kevin D. Miller, 49
Kenneth M. Steil, 46
Myron A. Jarrett, 40
Donald O. Kimbrough, 71
Glenn A. Doss, Jr., 25
Darren M. Weathers, 25
Detroit Fire Department:
Vincent H. Smith, 49
Walter R. Szelag, 65
Kevin V. Ramsey, 50
Wayne State Police Department:
Collin J. Rose, 29
Plymouth Voice.