Court decision stalls Salem Springs development plan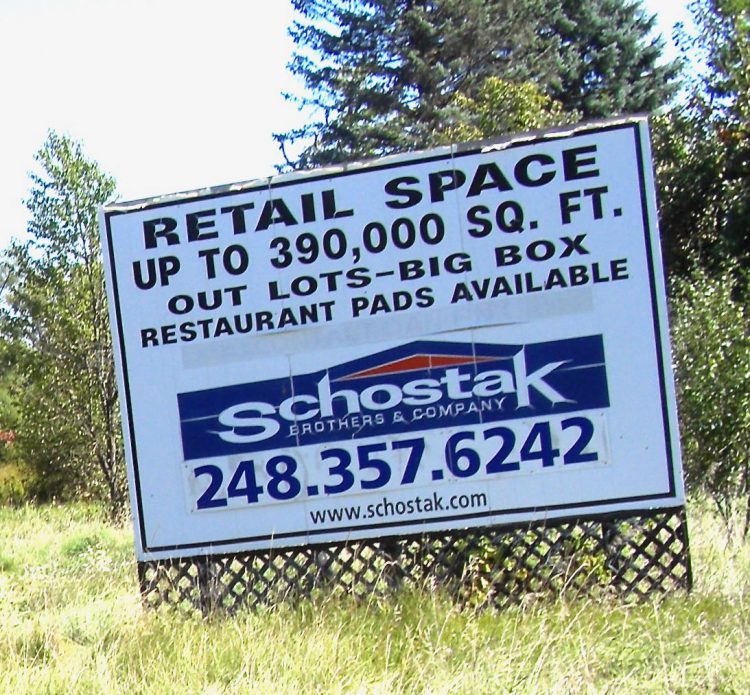 Jul 22, 2021  PLYMOUTH EAGLE.
Plymouth Michigan News
Don Howard
Staff Writer
It may not be the end, but a years-in-the-planning development which abuts Plymouth Township has hit another snag in the Washtenaw County Circuit Court.
In a rural area on the northeast edge of Washtenaw County in an area of Salem Township known as the Urban Service District (USD), a battle continues about the need for sewer lines crucial to a proposed planned community.
Lawsuits and controversy continue to surround the project dubbed Salem Springs, the brainchild of Livonia-based developer Schostek Brothers and Company, Inc. and plans to begin construction of Salem Springs South – a retail and residential development in a 200-acre triangle of mostly vacant land bordered by M-14, Gotfredson, North Territorial and Napier roads. According to those knowledgeable about the details, the 588-unit high-density development reportedly will include townhouses, detached condominiums and single-family homes.
Prior to development the vacant Salem Township property requires access to wastewater treatment in order to proceed.
According to court filings, Salem Township investigated the feasibility of connecting to various alternative public sewage disposal systems, including Plymouth Township, Lyon Township, and Western Townships Utilities Authority (WTUA), Wayne County and Ypsilanti Community Utilities Authority (YCUA).
Plymouth Township Supervisor Kurt Heise is insistent he and the board of trustees don't want Salem Township hooking up to Plymouth Township sewer lines. Plymouth Township officials for years have expressed their disapproval of the $20 million Michigan Economic Development (MDEC) grants and made it clear they are taking a firm stand against the Salem Springs development.
Heise said Plymouth officials continue to question the possible impact of the development on the infrastructure and public safety and the basis for the state funding of what he calls, "urban sprawl." In order for the Salem Springs to connect to the Plymouth sewer system there would have to be approval by three townships; Plymouth, Northville and Canton. According to Heise, WTUA bi-laws stipulate there must first be a consensus approval.
"Salem has no DPW, a volunteer fire department…this project is ill-conceived and not well thought out. I'm not going to sit back and see taxpayer dollars being wasted, Heise said.
Court records show Salem Township-engaged engineers, Hubbell, Roth & Clark, found numerous factors would prevent sewage going to Plymouth Township and WTUA. According to findings, Salem Township engineers found no alternative source proved to be available or feasible for sewer service to the Salem USD (where the Schostek property is located) except the direct connection to YCUA, using the Superior Township right-of way.
In 2019, after the study, Salem Township made application for a permit to construct a 10.5-mile long sewer line on Godfredson Road from M-14 to Geddes Road, then east on Geddes to Ridge Road, then south on Ridge to the Ypsilanti treatment plant in Superior Township.
Calling it "an ill-conceived project," Superior Township Supervisor Ken  Schwartz is adamant about his claim and those of the Township Board of Trustees that if constructed, the sewer line would "have a devastating impact upon our land use and our 45-year goal of preserving some semblance of rural Michigan between Ann Arbor and Canton."
Schwartz sites the fact that Salem Township was the recipient of two $10 million grants over a two year period in 2017 and 2019 by the State of Michigan Legislature that were earmarked for the Schostek project.
"Salem Township never applied for these grants, nor was it even aware that the State Legislature was considering these grants. No one from the state even called Salem Township to inquire about the need. No public hearings were held. No legislator sponsored the grants. The entire process appeared shady," Schwartz said.
The Salem Springs SE, LLC lawsuit alleged that in early 2020, Superior Township deliberately amended its Ordinance Section 169-85 to impose an additional requirement, stating that any and all entities or persons seeing permission to place sewer lines, equipment and appurtenances not owned by or under the control of Superior Township, in a road right of way within the Superior Township to serve areas outside of the Superior Township, must not only must submit an application as previously required but must also" deposit funds into an escrow  account…"
Salem Springs SE, LLC responded with a four-count lawsuit against both Superior and Salem townships accusing both communities claim that months before it received their application they had pre-judged that it was not going to grant permission and amended its ordinance to "manufacture new obstacles to interfere with the Application."
Circuit Court Judge Patrick Conlin Jr. dismissed counts Two, Three and Four of the Salem lawsuit. Count One alleged Superior Township violated substantive due process. Superior then filed for sumary disposition and Salem Springs SE, LLC withdrew the lawsuit, and the case was dismissed, with prejudice.
Legislators approved the grant funding on the last day of the lame duck Legislature session in December 2018. The bill included $115 million for small projects across the state that was championed by Republican senators and representatives, including the project headed by Schostak. Bobby Schostak was former chairman of the state Republican Party.
"My position has not changed. They're going to build hundreds of homes and roads on our border. The township voted two times against this. We oppose the entire project," Heise said.
Plymouth Voice.