Continued train delays spark residents' complaints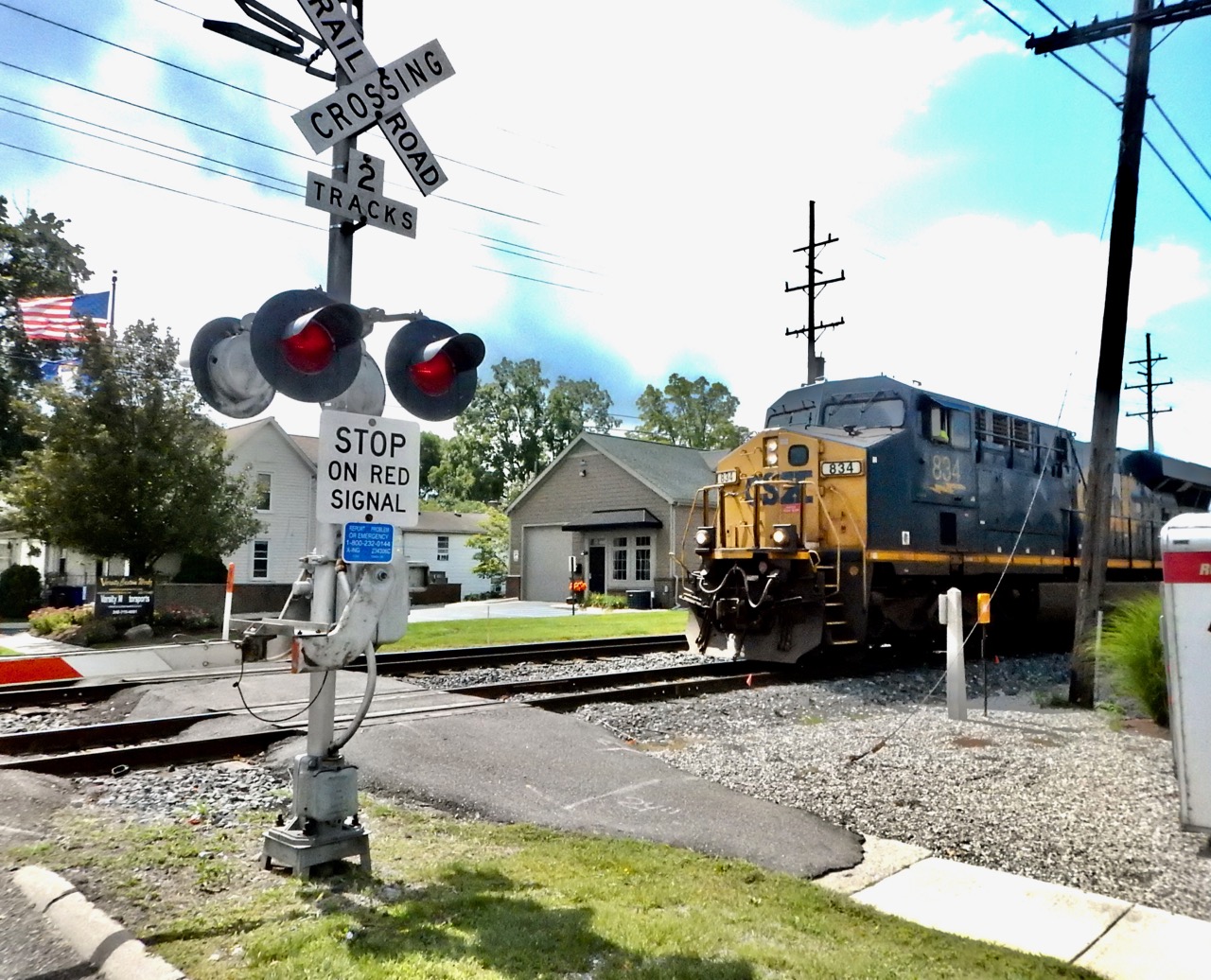 Oct. 1, 2017  PLYMOUTH EAGLE.
Plymouth Michigan News
S L O W   M O T I O N
Don Howard
Staff Writer
Frustrated motorists in Plymouth continue to complain about train delays, some lasting almost 20 minutes and stretching 2-3 miles across the community.
Complaints about blocked crossings are not a new topic in a town built around the railroad 150 years ago. Plymouth is still a major railroad intersection and for decades motorists and residents have learned to live and accept slow-moving rail traffic. As late as the 1960s, Chesapeake and Ohio passenger trains served the Plymouth community making regular daily runs to Detroit and Ann Arbor. At one time 27 trains regularly crisscrossed the city. Plymouth is one of the few communities in the state where trains run both east and west and north and south.
Ken Rutka, a 35-year old consumer research director who works in Ann Arbor, says he just moved to Plymouth last month and already had what he described as "an unbelievable train delay." Rutka said he's lived by railroad tracks his entire life but never encountered a train a long as the one on Starkweather Street on a recent Thursday.
"I was held up by a train in Plymouth this morning on Starkweather for 16 minutes by my count. Not something you want to run into on your morning commute…wish there were penalties to assure this wouldn't happen to motorists in the future," Rutka said in an email.
In recent years, frustrated city leaders have attempted to alleviate the train delay problem after facing irate residents. Traffic tickets have been issued to train engineers in an attempt to find a solution to the problem.
In 2002, then State Attorney General Jennifer Granholm challenged the CSX with a court action and defended a 1994 Michigan statue that prohibits trains from continuously blocking crossings for longer than five minutes. Each violation of the state statue resulted in a $500 fine and CSX was issued over 890 citations with potential fines exceeding $446,000. CSX then filed a countersuit against Plymouth in the U.S. District Court for the Eastern District of Michigan claiming the state statue is preempted by federal statues. The court agreed that the regulation was preempted by both the Federal Railroad Safety Act and the Interstate Commerce Commission Termination Act. Plymouth did not appeal.
In May of last year a CSX spokesperson told The Eagle the delays were the result of "operational changes," claiming the company had implemented infrastructure improvements and apologized for the "inconvenience,"
As city officials faced continued complaints, they established a direct 24-hour "Tell CSX" line to the railroad and posted the telephone number on area crossing gates. They urged disgruntled motorist to call U.S. Senators Debbie Stabenow, Gary Peters and U.S. Rep. David Trott. Officials said they were told that CSX policy required that trains be broken into two parts whenever a blockage is expected to continue for more than 10 minutes.
Reports say CSX has recently changed routes and closed rail "hump" yards that sort the long trains. Hump yards are massive facilities that disassemble the trains by rolling them down an incline and directing the cars through switches to tracks where new trains are assembled.
In a written response to an inquiry by The Eagle, CSX Assistant Vice President for Media and Communications Rob Doolittle, apologized to Plymouth and Canton residents who have experienced blocked crossings.
"CSX is transitioning to a new operating model, called Precision Scheduled Railroading, which is intended to optimize the use of all assets, including locomotives, rail cars and infrastructure, in providing a cost-effective, reliable, predictable freight- transportation product to customers.
"This transition requires dramatic change in many aspects of the company's operations and some customers and other stakeholders have experienced unintended effects, including longer trains, as our organization has evolved. We have acknowledged these issues, and we are committed to working through and resolving them as quickly as possible. Safety remains our key priority and factors into every decision the company makes regarding its employees, customers and the com- munities we serve," Doolitte said.
Doolittle said CSX has a contact website for concerned residents, www.csx.com/tellcsx.
Statistics show CSX employs 25,000 workers and has 21,000 miles of track that stretches into eastern Canada. The railroad giant based in Florida is now a monopoly connecting major cities like Miami, Chicago, Detroit, St. Louis, Montreal and Boston.
According to a recent report in The Wall Street Journal, problems for CSX began this May and became worse by mid-summer. Details of railroad congestion, service delays and colossal trains blocking the tracks are said to be wreaking havoc not only with motorists, but business and industry. CSX is now one of only two railroad operators that handle nearly all rail shipments east of the Mississippi River. According the to the accounts, railroad logs show the transit time from Chicago to Colesburg, Tenn. is usually just a few days and earlier this month the actual ride time was posted as 18 days, 13 hours and 57 minutes.
This July a railroad regulator, the Surface Transportation Board, warned CSX to "Fix the service problem," after receiving customer complaints about service deterioration, including delays and congestion, long and unpredictable transit times time, railcars sitting in yards for days at time and numerous shipper complaints.
Plymouth City Manager Paul Sincock reported that his office had not received any recent complaints of long trains or inordinate delays. According to Sincock, the blocking of grade crossings is not regulated by law.
Plymouth Voice.
Photo: © Don Howard / Associated Newspapers