Concours d' Elegance returns to Plymouth for second year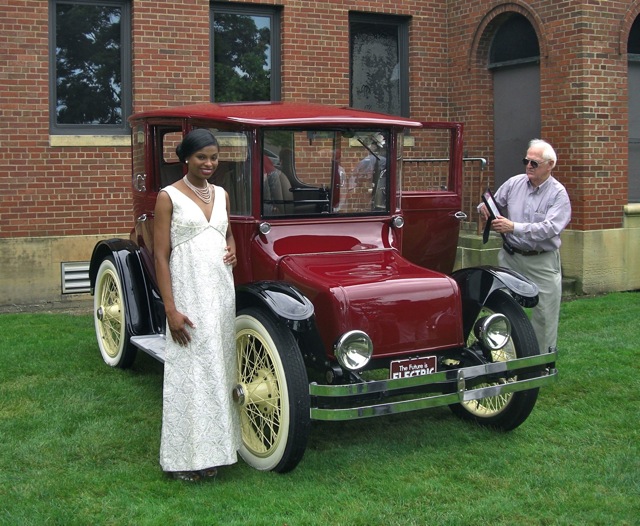 Jack Beatty, of Ann Arbor, attended the press preview with his 1916 Model 60 Detroit Electric, one of two, which he will enter in the show. Beatty purchased the vehicle in 1981 and restored it to its pristine condition. The aluminum body vehicle runs on two 42-volt batteries and has a top speed of 25 mph.
July 25, 2013  PLYMOUTH EAGLE.
Time travel
With highlights that include the very first electric cars, cars from the historic Great Race and some amazing jet age convertibles, the renowned Concours d'Elegance of America returns to St. John's in Plymouth July 28. One of the most prestigious showings of classic, rare and valuable automobiles in the world, The Concours, with some 300 vehicles, will be spread out over the 200-acres of historic St. John's grounds. In addition there are numerous associated events on Thursday, Friday and Saturday leading up to the grand presentation open to the public on Concours Sunday.
Unlike any other Concours in the world, Concours d'Elegance of America is dedicated to the Genius of the Automobile. It is a unique celebration of exotic, beautiful and historically important automobiles and the people behind them: their innovations, designs and technology that influenced the world, noted organizer Jim McCarter.
Keeping this mission in mind, the event this year features an unmatched range of innovative, one of a kind automobiles that include everything from the first electric cars, to the exotic cars that ran in the world famous Great Race, the 50th anniversary of the 1963 Split Window Corvette, the 50th anniversary of the Porsche 911, Jet Age Convertibles, Vintage NASCARS, Detroit Iron including early Lincolns, Cadillacs, Chryslers and Packards and Indianapolis Iron including Duesenbergs, Stutz and Marmon cars as well as a rare 1934 aerodynamic Pierce Silver Arrow, McCarter said.
"This will be the best show we've ever had," McCarter said.
Vehicles can only appear in the Concours by invitation and this year the field is valued at more than $10 million.
The Chief Honorary Judge will be Wayne Carini from "Chasing Classic Cars." Masters of Ceremonies will be Bob Joynt and actor, voiceover man and Michigan native Edward Herrmann.
A portion of proceeds of the Concours dElegance of America at St. John's is designated for the College for Creative Studies (CCS), known for its world pre- eminent automotive design curriculum, Hospice of Michigan and Leader Dogs for the Blind.
The Concours d'Elegance of America is open to the public and takes place 10 a.m. to 4 p.m. The $25 general admission includes free parking, shuttle and a program book. Mode du Concours Fashion Shows throughout the event, matching vintage fashions with cars, is part of the presentation at the judges stand.
The Inn at St. John's is located at 44045 Five Mile Road, Plymouth, Mi 48170. For information call 248-643-8645 or go to www.concoursusa.org.
|News Plymouth Michigan