Clerk's comments draw candidate's fire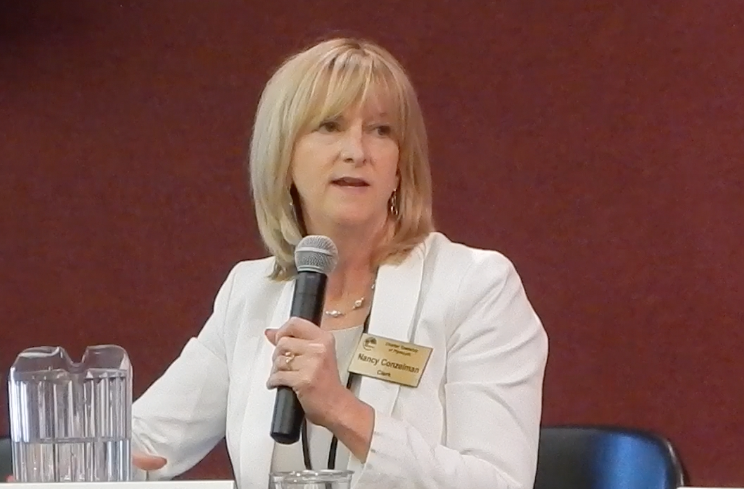 Jul. 8, 2016  PLYMOUTH EAGLE.
Plymouth Michigan News
"I think this is misfeasance. I think it's underhanded. I think it's terrible that it happened."
Don Howard
Staff Writer
Actions of incumbent Plymouth Township Clerk Nancy Conzelman have been criticized as instrumental in the lawsuit that removed two candidates from the upcoming primary ballot in that community.
During the League of Women Voters candidate forum last Thursday at the Plymouth District Library, Conzelman admitted that she had advised and aided some candidates with their political filings while disregarding others. Two candidates Conzelman publicly opposes, State Rep. Kurt Heise who is challenging incumbent Supervisor Shannon Price, and Don Schnettler, seeking a term as a board trustee, failed to indicate the precinct number in which they vote on their affidavits of identity, paperwork that is usually reviewed by the municipal clerk prior to submitting it to Wayne County for inclsion on the ballot. Conzelman signed the paperwork submitted by Heise and Schnettler as "received by" but did not complete the "reviewed by" blank on the paperwork. Challenger Jerry Vorva, seeking to replace Conzelman as clerk, said her admitted actions were "almost criminal" and told the assembled audience of about 100 residents that it is the job of the town- ship clerk to assist and serve all the residents, not just those she may "favor."
During the question-and-answer period, one audience member submitted a question read by moderator Roberta Young, "Is it the responsibility of the township clerk to alert a candidate of a minor error on the application to run for public office? Why or why not?" The question elicited a murmur from informed audience members who were aware of Heise and Schnettler's omission of their precinct numbers and the subsequent court challenge to their candidacy.
Vorva who was first to answer, fired back, "Absolutely." He said candidate forms include a provision stating the documents have been reviewed and "…the person to review that is the clerk."
"In the instance you're talking about, the clerk failed to review it, didn't sign it, still she sent it to the county and then told the particular candidate that everything was fine. I think this is misfeasance. I think it's underhanded. I think it's terrible that it happened," Vorva said.
Conzelman responded that she disagreed with Vorva and that the Michigan Court of Appeals ruled that it was the candidate's responsibility to correctly complete their paperwork including the affidavits of identity.
"There's a difference between the application that goes along with the petition and the affidavit of identity. The affidavit of identity is notarized when the candidate signs it. The candidate goes over it and if the candidate cannot fill in all the blanks, the candidate should not feel the clerk is the responsible person and should not be relying on someone else to check their input. There's a standard that specifically requires the review of the petitions. The affidavit of identity is a completely different document. One I did see, I did corrected (sic) it for some candidates. Wayne County corrected it in some candidates. Both of those candidates had the exact same amount of time to review their paperwork," Conzelman said.
Vorva, speaking out of turn, retorted sharply, "I'm outraged… she's correcting for other people. Who did you help, Price and Edwards?" His remark was a reference to incumbent candidates Price and Treasurer Ron Edwards.
"I helped Doroshewitz," Conzelman said, referring to incumbent Trustee Bob Doroshewitz who is seeking re-election.
Heise said after the meeting that he was going to seek legal counsel in response to Conzelman's disclosure that she had helped other candidates to ensure their paperwork was complete while not offering him the same consideration.
"It was absolutely stunning to hear Nancy Conzelman admit that she cherry-picked certain affidavits from candidates, assisting in correcting the mistakes they had made. This constitutes an abuse of power and denial of equal protection. I'm consulting my attorney about the civil and criminal remedies that may be available to me. I think this has shown that she can't be trusted to competently and fairly run the Aug. 2 election," Heise said.
Vorva agreed that Conzelman's comments were upsetting, but said he was not surprised.
"She took an oath of office to be the clerk for everyone. When you do this you have an obligation to assist people, to help people be registered voters and to help everyone and she's failed on every count. She's an attorney; she's an officer of the court. This kind of behavior is grounds for disbarment," Vorva, a former state representative and a former member of the Plymouth City Commission, stated.
Candidates also clashed regarding the new Plymouth Arts and Recreation Complex (PARC), incumbents claiming their failure to support the project is an effort to protect township taxpayers while other candidates claim that the township resolution forbidding any cooperation with the city on any issue is politically motivated and not in the best interest of residents.
Edwards, the main opponent of PARC and the instigator of the non-cooperation resolution, did not appear at this forum or at an earlier candidates' forum at PARC two weeks ago. Price, Conzelman and incumbent trustee candidate Mike Kelly also failed to appear at that earlier candidates' meeting.
"I've already debated him (Heise) about PARC and the fire department and besides I thought (Don) Soenen was going to work with us and support us about things and now he's got all those signs on his lawn," Price said the day after the PARC forum. He said he thought the reason Edwards, Conzelman and Kelly also decided to boycott the PARC forum was, "I think they agreed with me on Soenen."
Plymouth Voice.
Photo: © Don Howard/Associated Newspapers