Canton priest set for court exam Friday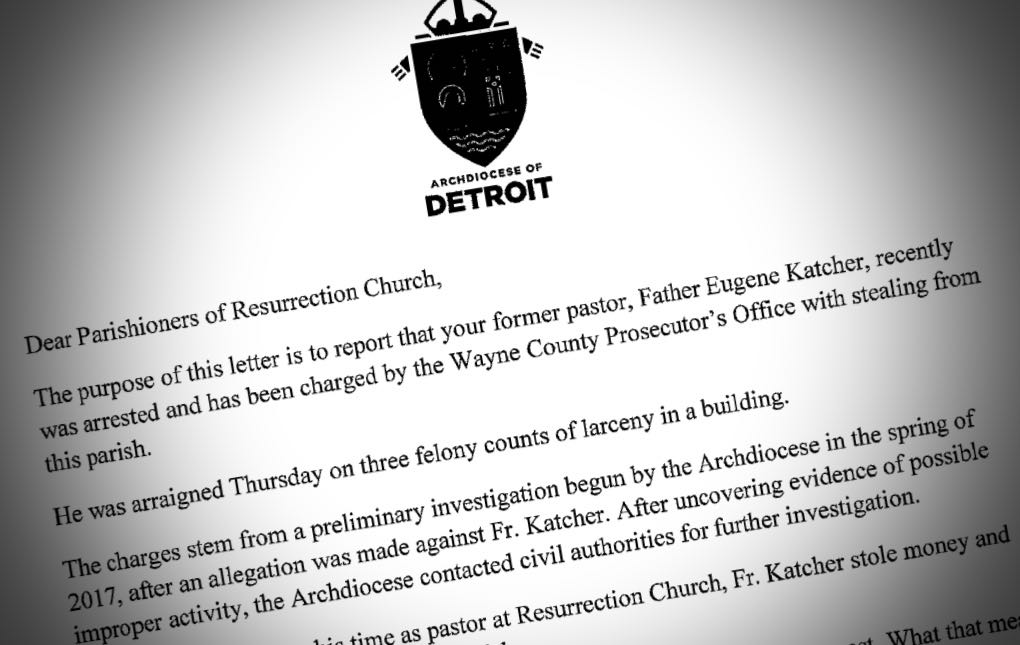 Sept. 11, 2017  PLYMOUTH VOICE.
Plymouth Michigan News
Father Eugene Katcher, former pastor of Resurrection Parish in Canton Township, has been charged by the Wayne County Prosecutor's Office with three counts of larceny in a building, felonies carrying a maximum penalty of up to four years in prison.
Katcher was arraigned Aug. 31 in 35th District Court before Judge Ron Lowe who released him on a personal bond.
The charges stem from a preliminary investigation begun by the Archdiocese of Detroit in the spring of 2017, after an allegation was made against Katcher, claiming that during his time as pastor at Resurrection Church, Katcher stole money and numerous items of property from the parish. Those complaints included his removing cash from the collections plates and the theft of church wine. Police were notified of the findings of that investigation and began an independent probe into the allegations, resulting in the criminal charges.
Having reached what the archdiocese calls senior priest status, Katcher, 71, took his previously scheduled retirement in July.
Following his arrest, he was restricted from public ministry by the archdiocese, meaning he may not celebrate mass or the sacraments in a church setting, may not wear a Roman collar or present himself as a priest, and he is not allowed on parish property at Resurrection, according to a statement from the archdiocese.
"The archdiocese takes seriously every allegation involving inappropriate conduct of clergy, church personnel or volunteers. It is the policy of the Archdiocese to conduct a financial audit of parishes every three years. Additionally, each parish is required to have a finance council, led by parishioners, that assists and advises the pastor in oversight and control of parish financial affairs," according to a prepared release from the Archdiocese.
Katcher was ordained in 1993 in Fargo, ND and served in various parishes across the country before being assigned to Resurrection Parish where he served from 2014 until his retirement in July.
A probable cause conference on the charges was held at 35th District Court before Judge James Plakas. Katcher's preliminary court examination is scheduled for Sept. 15, before Judge Michael Gerou.
He remains free on personal bond.
Plymouth Voice.