Business owner injured by thrown sandbags in I-96 incident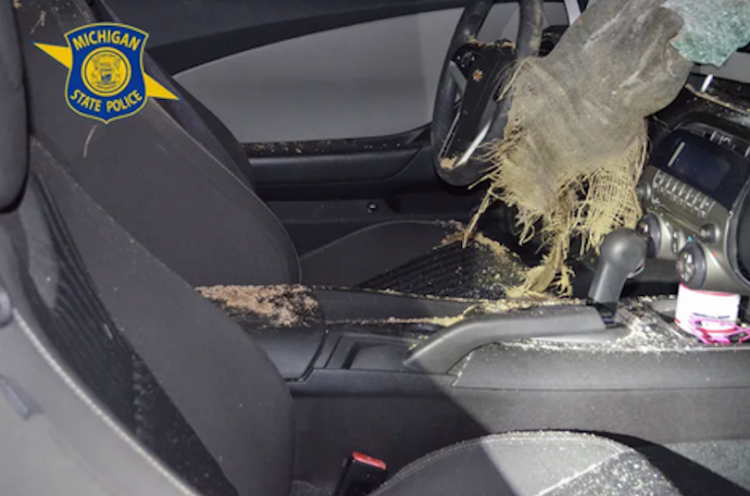 Oct. 7, 2020  PLYMOUTH VOICE.
Plymouth Michigan News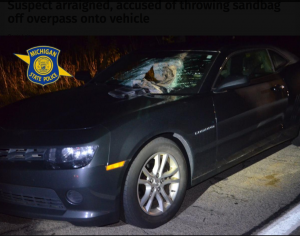 State Police say a 41 year-old Brighton man remains locked up in Oakland County Jail awaiting charges after being arrested for allegedly throwing 40-pound sandbags off an overpass on I-96 Sunday night, injuring a Plymouth business woman. The incident occurred on the westbound lanes of the freeway between Wixom and Milford Road about 11:00 p.m.
Police say one of the sandbags hit the center of the windshield of a westbound vehicle driven by Cynthia Eckley, causing serious injuries. She was transported to a local hospital and has since been discharged and is recovering with facial and eye injuries. Eckey said she had just dropped off her pregnant daughter-in-law before the event occurred and was thankful she was the only occupant in the vehicle. Eckley is the owner of the Frame Works, an art gallery and custom frame shop located on Penniman Ave. in downtown Plymouth.
According to police reports, the yet to be identified suspect was involved in a single vehicle crash near Old Plank Road and walked up onto the overpass which was under construction and began throwing the sandbags onto the freeway. A passerby picked up the suspect and drove him to his home in Brighton but not before he allegedly told the driver about the incident. The driver then called the State Police and gave them the information and the suspect's location.
The investigation is pending review by the prosecutor's office. The suspect is facing charges of assault causing great bodily harm, damage to private property and throwing objects at motor vehicles causing injury. He's expected to be charged later this week.
Plymouth Voice.
Photos: Michigan State Police