Resident says city violated Michigan's Open Meetings Act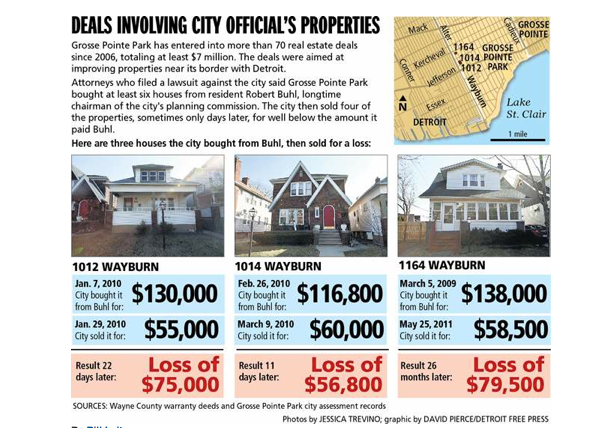 May 7, 2013  PLYMOUTH VOICE.
In November 2006, voters in Grosse Pointe Park approved a $7 million bond issue to "acquire bank foreclosures, expand our tree replacement program, resurface streets, create new housing and convert vacant rental properties to owner occupied residences," according to a city summary of the bond program.
"When I dug into it, I found that a lot of what the city was doing with that bond was being done behind closed doors," Payne said. "But every time I questioned the city attorney, he told me that the city was acting within the law. I don't believe they are." Robert Payne, Grosse Pointe Park resident.
Robert Payne filed the suit in Wayne County's 3rd Circuit Court with his attorneys Andrew Paterson and Charles Leahy, a Grosse Pointe He seeks declaratory judgment and injunctive relief. He wants the city to comply with the Open Meetings Act and compensate him for his legal fees. (Grosse Pointe News Apr. 11, 2013)
City accused of secret real estate deals
Detroit Free Press  April 7, 2013
By: Bill Laitner
Grosse Pointe Park officials say they're proud of improvements they've made to property near the city's border with Detroit.
In the last half dozen years, the city transacted millions of dollars in real estate deals, buying and selling homes and commercial buildings. The goal? To have fewer renters, more owner-occupied homes, upgraded commercial areas and land freed for civic uses — such as the public library on East Jefferson that sits on land once polluted by a defunct car dealership, officials said.
But 27-year resident Robert Payne is claiming that many of the deals took place behind closed doors.
He filed a lawsuit in late February in Wayne County Circuit Court, alleging that Grosse Pointe Park repeatedly violated Michigan's Open Meetings Act by buying at least 43 properties and selling 16 "without public meetings, without public deliberation, without public decision and without keeping meeting minutes."
One allegation says that Grosse Pointe Park covered up questionable transactions involving the city's longtime planning commission chairman. The lawsuit also contends that the city improperly held closed sessions for numerous other decisions.
"Basically, what I'm after is for them to make decisions in public," said Payne, 66, a retired General Motors business-unit manager.
City's defense
Payne, who often attends City Council meetings, said he has long been concerned about his city's torrent of real estate dealing following the November 2006 voter approval of a $7-million bond issue to finance property upgrades near Detroit. That led to overspending on questionable projects, Payne said.
His lawsuit — a complaint for declaratory judgment and injunctive relief — requests that for all future decision-making, the city be ordered to comply with the Open Meetings Act. It also asks that the city be made to release minutes and other records from closed meetings and that it pay Payne's legal costs.
Grosse Pointe Park's city attorney, its mayor and its mayor pro tem said the lawsuit's claims are baseless. The city filed a motion March 22, asking a judge to dismiss the case. And officials defend their use of real estate investments to upgrade city property near Detroit.
Grosse Pointe Park Mayor Palmer Heenan said last week that he could not comment directly on the lawsuit. "I can tell you, we made some deals that I probably would like to do over," Heenan said.
"But we had a very severe situation a few years ago when we had housing that was very rapidly going downhill," he said.
"We've made a lot of progress" in those areas, "and it hurts me to see this kind of criticism," said Heenan, 91, who has been the city's unpaid, part-time mayor for 30 years.
What records show
One of two attorneys representing Payne said his review of city and county records showed that Grosse Pointe Park had engaged in about 70 real estate transactions since 2006, totaling at least $7 million.
"The real total is hidden, with many deeds showing $1," said attorney Charles Leahy, 67, of Grosse Pointe Shores.
"About a quarter of the transactions have been voted (on) by the City Council in public meetings, and the other three-quarters of the decisions were made outside the public view," said Leahy. He often attends city meetings in several Grosse Pointe communities as an advocate for the schools and library system, he said.
The lawsuit states that the city bought three houses from a city official — Robert Buhl, chairman of the Grosse Pointe Park Planning Commission, said Andrew Paterson, another of Payne's two lawyers on the case. The city then re-sold the properties, typically just days or weeks later, for prices far lower than it paid Buhl, according to records cited in the lawsuit. Other records have not been released, so details of additional deals with Buhl remain hidden, Paterson said.
Under Freedom of Information Act requests, Payne's lawyers asked to learn the price the city paid Buhl for a house at 1018 Wayburn, a street of older frame houses.
The attorneys' repeated requests for information on the price generated a letter from the Grosse Pointe Park city attorney that said the information "is personal in nature and disclosure would be an unwarranted invasion of an individual's privacy."
Buhl, reached at his home, where he said he operates Buhl Properties, said he knew nothing about the lawsuit.
"If it's about the Open Meetings Act, that just made things worse when we converted to that a few years ago," he said. The Michigan Open Meetings Act took effect Jan. 1, 1977, according to the state'swebsite.
Official: Buys a favor
Buhl said he owned rental properties "all over Grosse Pointe City and Grosse Pointe Park." He declined to discuss the lawsuit's allegation that the city "concealed the fact of paying Buhl more than twice the fair market value" for at least three houses.
"The fact that the city flipped a lot of these properties at substantial losses, sometimes a day or a week after buying them, really caught my eye," Paterson said.
Grosse Pointe Park Mayor Pro Tem Greg Theokas said Buhl bought properties "essentially as a favor to us, before we had the resources." Buhl then held the properties until the city was ready to buy them, Theokas said.
"He was essentially acting as a straw man to get the best prices for us. My understanding is he made no money at all on these deals," he said. Theokas said the City Council had appointed a three-person real estate committee to handle property deals.
"We had many, many transactions — well over a hundred — and that would've taken so many council meetings" and been "much more cumbersome," he said.
"I think we've removed about 150 multifamily units from the city" through demolitions and upgrades to single-family residences, he said.
"I am not sure that the real estate committee has to meet in public, (but) all this has all been done on the advice of our counsel" — the city attorney, Theokas said.
The lawsuit challenges the contention that decisions can be legally made by a three-person committee that meets in private. It notes that even the city's charter requires a vote of at least four council members to sell or lease city-owned property.
All of the allegations are baseless, Grosse Pointe Park City Attorney Dennis Levasseur said.
In a $1.2-million development contract for which the lawsuit alleges that a City Council vote was required, no vote was needed — only the mayor's signature — because the contract was to obtain a federal grant, Levasseur said.
In other instances, contrary to the lawsuit, the council properly voted to approve the real estate transactions, he said.
City rules vs. state rules
In the city's legal brief accompanying its motion to dismiss the case, filed in Wayne County Circuit Court, the city responded to the lawsuit's charges about planning commission chairman Buhl by saying that City Council minutes might have stated erroneous purchase prices for real estate the city bought from him.
Grosse Pointe Park officials have contended that they can make real estate deals in secret because that's allowed under the city's charter. Yet, the language of the Michigan Open Meetings Act says: "This act shall supercede all local charter provisions."
The Open Meetings Act requires virtually all decisions by public bodies to be made in open session, said attorney Robin Herrmann, general counsel to the Michigan Press Association.
The act says officials can go into a closed session to discuss a real estate purchase, said Herrmann, an expert on the law.
"But all of the actual decisions, including all real estate decisions, have to take place in an open meeting," she said.
Sources, Wayne County warranty deeds and Grosse Point Park city assessment records. Photos by Jessica Trevino, graphic by David Pierce/Detroit Free Press
Also see Plymouth Voice article:
Detroit sues Plymouth Township after bungled $600,000 land purchase
|News Plymouth Michigan