Auction brings end to third generation farm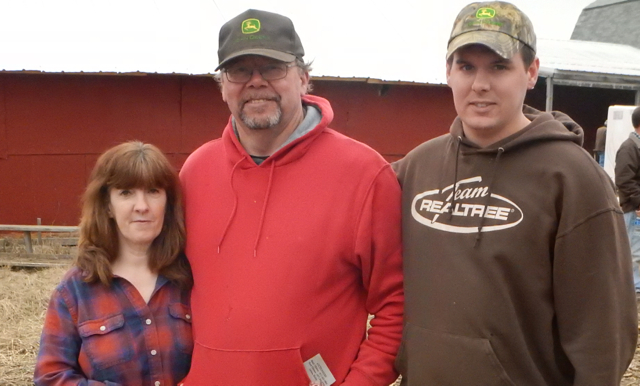 Photos: © Don Howard/Associated Newspapers of Michigan
Butch George, center, his wife Teri, and son, Damon watch as the auction of their farm equipment continues. Butch George said the experience was "bittersweet."
Mar. 31, 2016  PLYMOUTH EAGLE.
Plymouth Michigan News
Don Howard
Staff Writer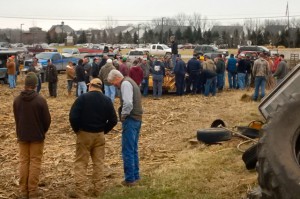 The end of an era in Northville Township took place last weekend as items from the George family farm went up for sale.
The third generation family-owned farm, the last of its kind in Northville, is ceasing operations after 80 years. Last Saturday, the 62-year-old grandson of the man who first broke ground at the family farm, part of the 13-square mile area that was dotted with other small farms and accessed only by then-unpaved roads where farmers' crops and cattle were the only means of family support, put the equipment on the auction block.
Milan George, Jr. is selling off his land, now surrounded by high-end homes and subdivisions. The George family farm was started in 1936 by Damon George, an immigrant dairy farmer from Yugoslavia, who purchased 30-acres near the north- west corner of Six Mile and Ridge roads.
Starting with a small herd of Holsteins, George moved his family into an existing old farmhouse on Six Mile Road built around the turn of the century. The property contained a gambrel hay barn that was moved there from Plymouth in 1910 and still stands along with the house.
In 1952 George acquired 180 acres, across the way on the south side of Six Mile Road and added another barn to his property.
George's son, Milan R. George, took over the small dairy farm in 1963 when his father died. He operated the farm until his death last September at 86. George graduated from Northville High School in 1946 where he was class president and later served as president of the Detroit Rescue Mission.
He and his son, third-generation farmer Milan "Butch" George, Jr. worked the land together until the senior George's death. Butch George has decided it is time to let go of the land that makes up the western border of the township.
The dairy farm had become a beef and crop farm which Butch George, his wife, Teri, and their 26-year-old son, Damon, had recently downsized to 24 acres. They kept the business open in recent years by planting corn, soybeans and pumpkins and crop farming 500 acres of leased farm- land in the surrounding area. In the fall they sold pumpkins and had a corn-maze. But no more.
Part of the last of the family acreage has been taken over by a utility company and last week, George hired an auctioneer and placed everything on the block; his combine, tractors, trailers, tools and equipment and even old tires. More than 50 farmers from out-counties showed-up early on the damp, chilly morning with pick-up trucks and trailers to look for bargains and farm implements. The auction and hauling away of generations of equipment and memories went on all day.
"Overall I'm relieved… and very pleased," George said when the last item was loaded and gone.
Plymouth Voice.