Attention Plymouth-Canton area readers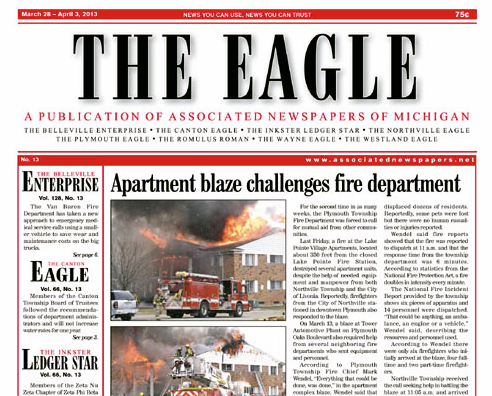 Feb. 2, 2014  PLYMOUTH VOICE.
ATTENTION PLYMOUTH-CANTON AREA READERS
Don't miss what's happening in your local area — get all the inside, up-to date stories you won't find in other local publications or websites– delivered directly to your home every Friday.
Call now to subscribe to home delivery.
THE EAGLE ……A PUBLICATION OF ASSOCIATED NEWSPAPERS OF MICHIGAN
The Belleville Enterprise – The Canton Eagle – The Inkster Star – The Northville Eagle – The Plymouth Eagle – The Romulus Roman – The Wayne Eagle – The Westland Eagle
For home delivery of The Eagle Call 734-467-1900