Arts complex continues development plan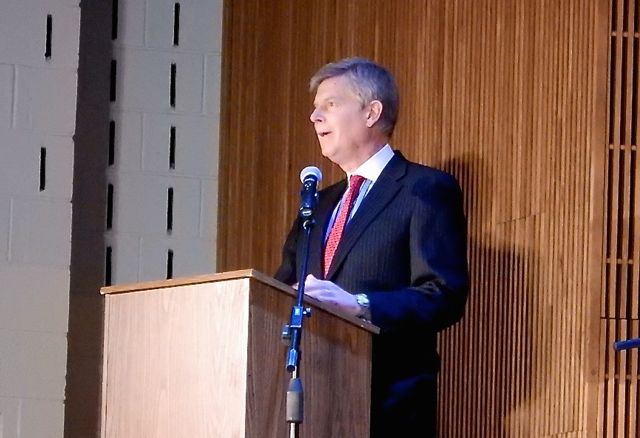 Mark Maclom
Jan. 31, 2017  PLYMOUTH EAGLE.
Plymouth Michigan News
"PARC can become a value added asset leaving a lasting legacy for those who follow."
Don Howard
Staff Writer
Plymouth Arts and Recreation (PARC) investors and administrators last week told area residents at a public forum that $2.3 million of the $3.3 million paid to the Plymouth Canton Community Schools to acquire the former Central Middle School property has now been paid and they're ready to begin aesthetic and mechanical improvements to the building.
According to PARC President Don Soenen, who presented the slideshow status report to an audience of more than 100 in the school auditorium, the 17-month- old operation is now self-sufficient and will be self-supporting once remaining debt obligations of $1 million are paid. Occupancy rates for the numerous venues operating in the building are near 80 percent, according to Soenen and the building is always busy with events serving the community.
Soenen said Plymouth residents Mark and Patty Malcolms' $800,000 contribution was one third of the $2.5 million slated to be financed. Malcolm, Soenen, other investors and a team of community residents saved the 100-year old school and sur- rounding property from residential development after the school was closed in 2015. The Malcolms' corporation, Malcolm Central LLC, provided sole financing for the PARC project.
The brief presentation laid out the vision for the future, including the creation of an Arts Exhibition Hall patterned after the Washington D.C. John F. Kennedy Center for the Performing Arts. Malcolm said the goal was to maximize private funding in order to minimize taxpayer funding.
"PARC can become a value added asset leaving a lasting legacy for those who follow," he said.
Included in the long-term plans, with the primary goal of preserving and renovating the entire facility, were aesthetic improvements like restoring the original facade of the building.
That would include installing 1930s-style windows to preserve the historic look of the building, removing the dropped ceilings to expose the original 12-foot ceilings, restoring and refinishing the wood and terrazzo flooring and renovating the rest rooms.
Malcolm said the renovation would be sensitive to existing and future needs. He added that there is also a need to provide adequate parking and indicated a desire to locate the proposed exhibition hall, "away from residential property."
Soenen said there are immediate plans to conduct a community survey to determine what is needed and develop construction and operation cost estimates.
They said they plan to conduct a millage vote by mid-2018 and start construction on the exhibition hall theater in 2020.
Soenen and Malcolm are credited with saving the Penn Theater in 2005 when the facility was closed. Soenen's non-profit Penn Theatre Realty, LLC purchased the building and then leased the building to Friends of the Penn for $1 a year.
"I couldn't imagine downtown Plymouth without the Penn Theater," Soenen said in closing.
Plymouth Voice.