Architect chosen for new middle school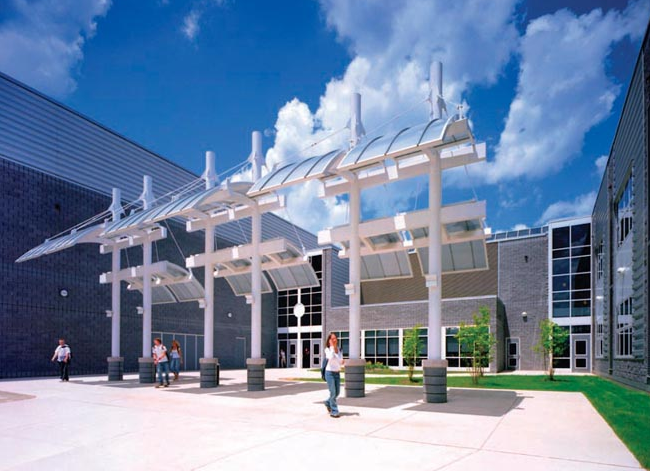 Walled Lake Northern High School designed by TMP Architecture
Sep. 11, 2013  PLYMOUTH EAGLE.
The new $22 million middle school in the Plymouth Canton District will be modeled on the design of Walled Lake Middle School.
Members of the Plymouth Canton Board of Education selected the two-story architectural design for the building, which will be constructed on 24-acres of land the district owns at Canton Center and Cherry Hill roads. TMP Architecture of Bloomfield, which designed the Walled Lake building, was awarded the bid to become the bond architect for all aspects of the school construction.
TMP was recommended by the district Architect Selection Committee comprising Deputy Superintendent of Business and Operations Brodie Killian, Board Trustee Mark Horvath, Central Middle School Principal Anthony Ruela and Discovery Middle School Principal Roche LaVictor
The committee evaluated several firms based on criteria such as the local presence of the design team, actual building design, professional fees and both the design experience and knowledge of Western Wayne County of the firms, along with other criteria.
Board members sent the architecture job out for bids which were then reviewed and evaluated the proposals submitted. Committee members also conducted interviews and toured prototype designs before making a final recommendation.
The committee had narrowed the selection to TMP and Fanning Howey Associates, the firm that designed Discovery Middle School in the district. Board of Education Vice
President Judy Mardigan said she was happy with the outcome because the district saved $750,000 by going through the bidding process.
Middle school staff members will be included in upcoming meetings and design sessions with architects to discuss design options. Site enhancements and environmentally friendly options will also be considered in the plans, according to the district.
|News Plymouth Michigan