Volunteers mark 25 years with foundation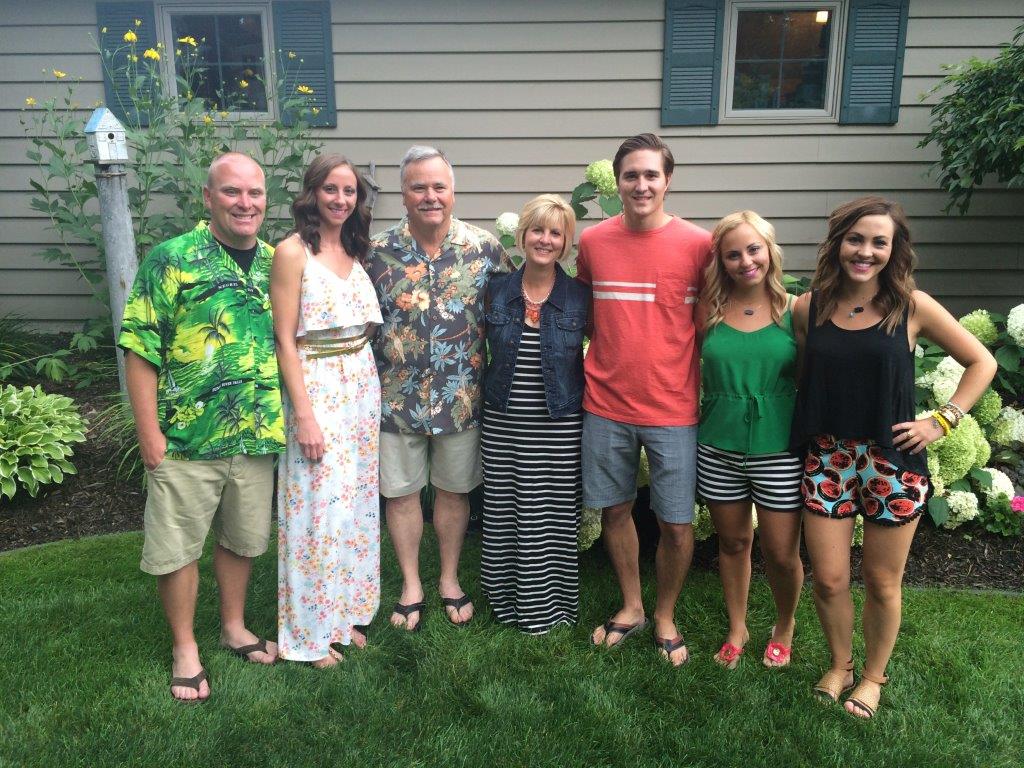 Active community philanthropists Paul and Kathy Denski (center) surrounded by their son, Paul M., at left, daughter-in-law Megan, Paul W. Jr., Kathy, son-in-law, John Schultz and twin daughters, Kendall and Eren.
Dec. 18, 2014  PLYMOUTH EAGLE.
Plymouth Michigan News
Community service is a family affair for one long-time Plymouth/Canton family celebrating a quarter century of involvement with the Canton Community Foundation.
Paul Denski recalled that he was first approached about helping the fledgling Canton Foundation back in 1989 by a board member. The foundation was in the infancy of the organization and looking for people who would dedicate time to helping the community.
"Reluctantly, I attended a meeting and found out what makes a community: caring people with a common commitment to help in any way the place that they call home," said Denski. "We all shared our concerns and what we thought were the things we could do to enhance the place we live. I couldn't help but be drawn to the causes that everyone agreed needed to be addressed."
As the foundation celebrates 25 years in the community, Denski is still a member of the board of directors and still active in helping make a difference in the community. "It has been a pleasure to meet and work with the leaders in the community that went out of their way to help in ways I never could have dreamed when I first joined CCF," said Denski.
Denski and his wife, Kathy, have committed themselves to giving back to the community during the past quarter century. Not only have they made that personal commitment, but they have passed that on to their three children.
In 2003, the couple established The Denski Family Scholarship Fund.
"The decision behind why our family chose to create the scholarship fund came easy," said Paul Denski. "Our daughters were both active as cheerleaders when they attended Plymouth/Canton High School. During their four years of dedication to the sport we were given a full perspective of how big the commitment to the sport of cheerleading truly was. With the creation of The Denski Family Scholarship we can help give other cheer-leader athletes the opportunity to be recognized for the hard work they put forth when participating in the sport of cheer-leading, as well as their commitment to their academics and their intention to help others in their community."
Today, volunteering with the Canton Community Foundation is a family affair. The Denskis recently recruited their children to join committees at the foundation.
"When my wonderful father volunteered me for this year's Foundation Golf Committee, I thought, 'How am I ever going to fit this into my already busy schedule?" said Denski's son, also named Paul.
"But being involved, and the fact that they were willing to work around my schedule, I enjoyed it very much and can't wait until next year!"
Along with young Paul being on the Golf Committee, daughter Kendall, a kindergarten teacher, was a perfect match for this year's Scholarship Committee, and daughter, Eren, a Special Events Manager, serves on the Events Committee.
The whole family is pulling out all the stops this year and Paul and Kathy have been named co-chairs for the upcoming 25th Anniversary Gala, which is planned for the Henry Ford Museum on March 7, 2015.
"I know my life has been enhanced by just being a part of the foundation, and I am proud to have been able to help others as part of this organization," Paul Denski said.
For more information about creating a fund at the Canton Community Foundation, contact Beth Meade at (734) 495-1200 or email atbmeade@cantonfoundation.org.
Plymouth Voice.