Township residents protest new amphitheater, spook board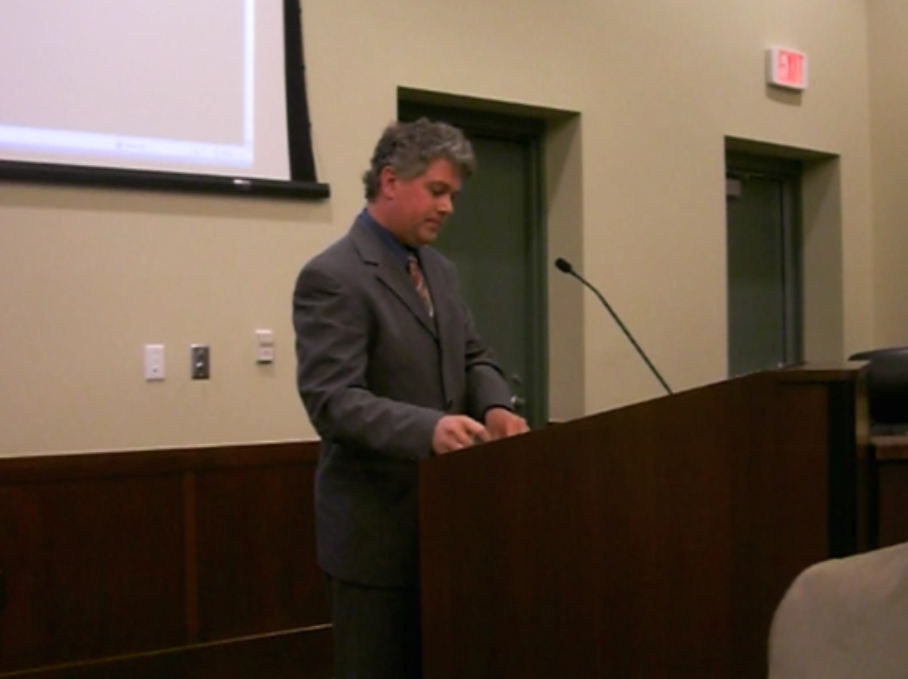 Plymouth Township resident Chris Hunter at June board meeting
WATCH VIDEO
Jun. 12, 2014  PLYMOUTH VOICE.
News Plymouth Michigan
Plymouth Township officials returning from a closed session Board of Trustees Meeting were overpowered Wednesday night by an unexpected audience of concerned residents who object to the proposed new amphitheater.
Homeowners of upscale Beacon Hill, alerted through social media and informed citizen groups, learned that township officials had surreptitiously scheduled a work session to discuss the controversial amphitheater project at the end of their special meeting, one that was hastily called to obtain attorney opinions and discuss several open and menacing lawsuits pending with the township.
Upset at their covert plans for the $350,000 township park project that could grow to $400,000, the waiting group filled Township Hall. Renderings, photos and concept drawings show the proposed stage and band shell will be constructed literally in the backyards of their west side homes.
Board members aghast to find the meeting attendees quickly exited the room through a back door not to return for over fifteen minutes. Trustees Chuck Curmi and Bob Doroshewitz were left behind in scuffle.
"Where did they go? …No one knows," said Doroshewitz when asked after the meeting.
The previously unscheduled meeting was not posted to the township website until 24 hours prior.
Residents and some trustees agreed township officials added the amphitheater topic to the agenda, an item that could have been discussed next Tuesday at a regularly scheduled meeting, to avoid resident questions and further controversy-counting on the usually-low attendance at special meetings.
Ann Arbor architect, Senior Associate Brian Barrick of Beckett and Raeder had a one-hour slide presentation and presented the board with their final concept drawings for the amphitheater project with construction stated for completion by May 2015.
Trustee Doroshewitz had a list of questions concerning the project details and continually peppered Barrick over specifics; including the size of the footprint, the size of stage and band shell, and their plans for power, stage lighting and parking.
Doroshewitz's constant questions and Barrick's subsequent answers revealed cost impacting details about the project that were not previously announced, nor discussed.
Many township resident attendees stood up and voiced their disapproval during the public comments portion of the meeting. Several said they felt there was not enough due diligence and claimed the amphitheater will have a negative affect on the community, something they don't want.
Chris Hunter, who lives in Beacon Hill close to the amphitheater site said he was adamantly opposed to the project and questioned the veracity and transparency of Township Supervisor, Richard Reaume's actions.
"I'm not sure why it's going forward without any type of vote. I think the board should seriously consider whether this is a violation of open meetings act." Hunter said.
"We seem to building a skyscraper from the top down. This project has gone forward without an impact statement, without an environment impact study being done, without the legacy cost, without the maintenance cost, without the supervision, without a business plan, without a survey."
Plymouth Voice.