Students worthy of honors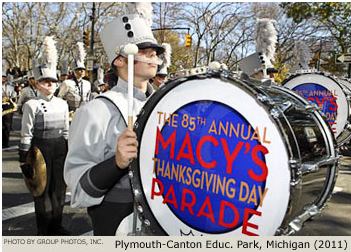 Oct. 18, 2012  PLYMOUTH EAGLE.
The Plymouth-Canton Educational Park Marching Band has won yet another championship.
The band students have won so many awards that many in the community have become somewhat jaded to the importance of their accomplishments. This is a big deal. Every one of these competitions, when these teens are rewarded for their hard work and dedication to their music, is a very big deal.
There are no shortcuts in these competitions. Students must practice their music, playing the same songs over and over until they are perfect, repeat their marching routines, walking miles, sometimes under the weight of musical instruments that can be pretty burdensome. They practice when it is 100 degrees and when the snow fall the weather has to be pretty inclement for them to delay or cancel a practice, much less ever a performance. They are often so cold their teeth chatter, making playing difficult or so hot the threat of heat exhaustion under their heavy uniforms is serious. These are tough, determined kids.
They are supported, too, by a dedicated group of parents who follow their performances like rock groupies, who organize fundraisers and events throughout the year to help fund the purchase of supplies for the band members to ensure the students continue to believe that they can be the best if they work hard.
That's an invaluable lesson for young people these days, and a concept that many are left without in our society. These young musicians learn the benefits of hard work, of helping others, of belonging to a group where there is a common goal, to be the best they can possibly be. This type of experience in school, learning to work as a team, to work hard, to be diligent, teaches lessons every bit as important as basic curriculum classes.
They've done it again, been chosen the regional champions at the 2012 Bands of America Regional Championship. They defeated bands from Georgia, Kentucky, Missouri, Indiana, Ohio, Illinois and some from other Michigan schools. They will now travel to the national championships in Indianapolis, IN next month.
When we hear of the budget deficits and revenue problems facing our schools and the often spouted plans to cut elective programs, like art and music, we cannot help but think of the loss such a measure would inflict on these young people.
During the past 20 years, the band students at Plymouth-Canton have consistently proven that they take the subliminal messages of their musical involvement with them as they move on in life. These are not the same 175 students that won the state championships and other competitions during the past 20 years. The student musicians may change, but they all come away with the same valuable lessons. We congratulate Band Director David Armbruster and Associate Band Director Jonathan Thomann, the Band Boosters, the parents of all the students and the teens who presented such an amazing performance.
The entire community takes pride in your accomplishments. We hope you do, too.