State Lawmakers honor fallen on 15th anniversary of 9-1-1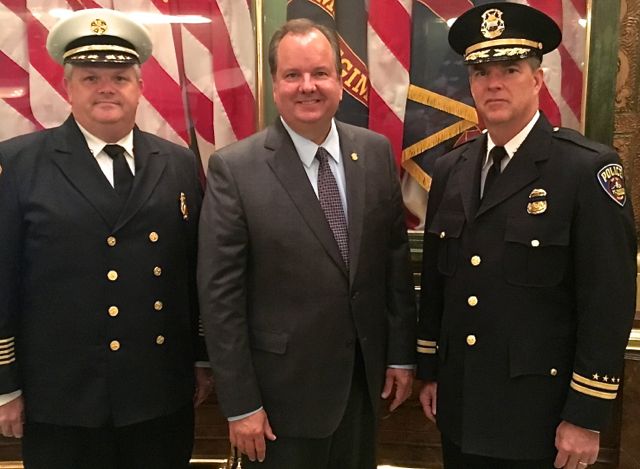 Sep. 10, 2016  PLYMOUTH VOICE.
Plymouth Michigan News
Michigan lawmakers honored those who perished on 911 with special ceremony on the floor of the House chambers at the Capitol building this Thursday in Lansing. House representatives invited guests, including first responders and military members from their districts to join them in remembering the victims and heroes of 9-1-1. Because the lawmakers are not in session on Sunday the ceremony was held Thursday.
The annual ceremony with current police, firefighters and military service members, along with family members of the fallen, included the ringing of a ceremonial bell for each of the 15 Michigan based law enforcement, fire department, medical first responders and members of the military who lost their lives in the line of duty since September 11, 2015.
State Rep. Kurt Heise was joined by Plymouth Township public safety officials, Fire Department Chief Dan Phillips and Police Chief Tom Tiderington.
"On a day when we honor our first responders, I appreciated having Chief Phillips and Chief Tiderington at the Capitol…their commitment, like those of all first responders and military personnel across Michigan help make Plymouth Township safe."
Plymouth Voice.
Photo: Contributed