Special board meeting Monday over DeHoCo lawsuit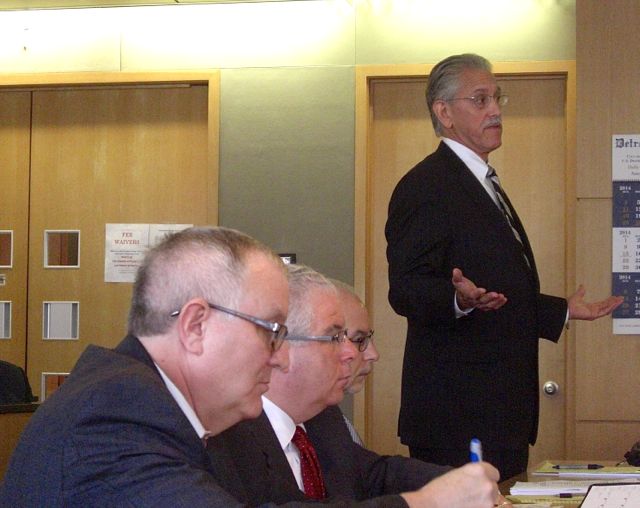 Plymouth Township attorney Timothy Cronin argues in Wayne County Circuit Court, June, 2014.
Photo © Don Howard / Associated Newspapers of Michigan
Feb. 21, 2016  PLYMOUTH VOICE.
Plymouth Michigan News
At the last hour, Plymouth Township officials has called a Special Board of Trustees Meeting for Monday, Feb. 22 at 7:00 p.m., to discuss whether to escalate their fight for the Detroit House of Corrections land after losing long costly court battles in both Wayne County Circuit Court and the Michigan Court of Appeals. The township has only until Tuesday, Feb. 23 to appeal the appellate court ruling.
Plymouth Township Clerk Nancy Conzelman posted the meeting notice Sunday evening. The agenda states the discussion will be an open-session and encourages public comment.
Plymouth Township attorneys were in Michigan Court of Appeals last month seeking to overturn a decision by the Chief Judge of the Wayne County Circuit Court ordering them to return a 190-acre parcel of land to City of Detroit.
Lawyers representing the City of Detroit argued that the city has owned the land since 1919 and lost it in an improper foreclosure transaction. Their arguments prevailed in a court proceeding and the township was ordered to return the property to Detroit in a decision last year. Township officials hired former Michigan State Attorney Mike Cox, now in private practice, to aid in the arguments before the three-member appeals panel.
"…Plymouth Township is not an innocent third party. The Township engineered the foreclosure by failing to send property tax bills to the City despite the fact that the City at all times was owner of the Subject Property. Plymouth Township then purchased the Subject Property for back taxes and now seeks a multi-million dollar windfall at the expense of the City," Detroit attorneys claimed in a court motion.
A three-judge panel at the Michigan Court of Appeals upheld the decision of Circuit Court Chief Judge Robert J. Columbo ordering Plymouth Township to return the land to the City.
The 11-page appeals decision found no legal basis or viable argument in the briefs presented as arguments by attorney Mike Cox.
Plymouth Township obtained the land, once on the tax rolls for more than $15 million, in September of 2011 for $606,150 in a Wayne County tax foreclosure sale. The contested property is located and Five Mile and Ridge roads, the site of the former Detroit House of Corrections, which closed in 1986.
Plymouth Township obtained an installment purchase contract with Bank of Ann Arbor for the purchase which included monthly payments of $17,000.
Plymouth Voice.