Sign of the times-Wilcox Mill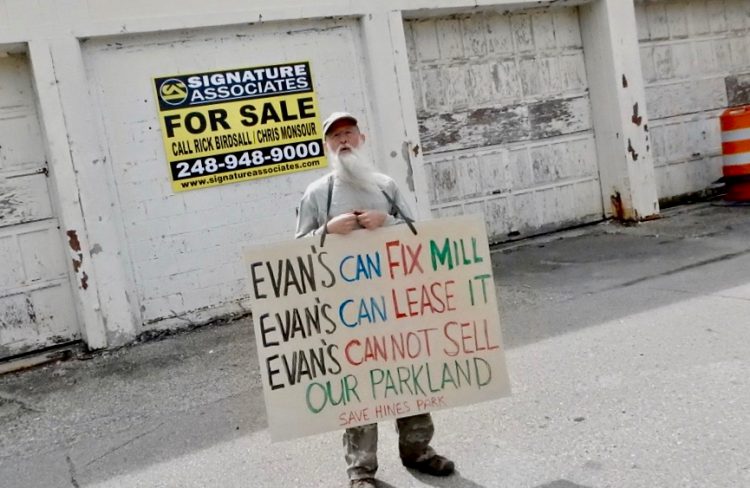 May 5, 2019  PLYMOUTH VOICE.
Plymouth Michigan News
Don Howard
Staff Writer
Hines Park activist Bill Craig was a one-man demonstration outside the long vacant Wilcox Mill last weekend.
The mill, located in PlymouthTownship, was built by Henry Ford in 1922. It is one of two remaining historic mills in Edward Hines Park that are now for sale by Wayne County.  The third facility, the Phoenix Mill, has already been sold to a developer. County Executive Warren Evans actively endorses the land sales and has created a public relations video, dubbed Mill Run Project.
Craig, a Livonia resident, was representing the Save Hines Park group that is attempting to rally residents and citizens to reject plans to sell the historic mills and surrounding land to private developers. The group has recently hosted town hall meetings with Wayne County representatives to protest the loss of the public land and green space. Craig claims a lease arrangement would be much better for the public and taxpayers,
"You can lease the land and you can lease the building and you still have ownership of the land," Craig said.
Craig said there is currently a deal pending with potential buyer for Wilcox Mill. He said the Save Hines Park members feel the preservation of the building is a good thing but questions the motive of Wayne Country in the sale of the adjoining 11-acres and the reason any potential developer would need the extra land.  Craig said he worries that the county is not sharing information and working with the Wayne County Commission members, but rather dealing directly with city and township elected officials.
The group has assembled a petition with 16,000 signatures which will be presented to county officials requesting that the group become part of the decision making process.  The group has a web site, www. SaveHinesPark.com, and email address: savehines park@gmail.com.
Craig reiterated the group motto, "Parks are for people, not for politicians to peddle for profits."
Plymouth Voice.
Photo: © Don Howard / Associated Newspapers