Restaurants, shops begin to revive in area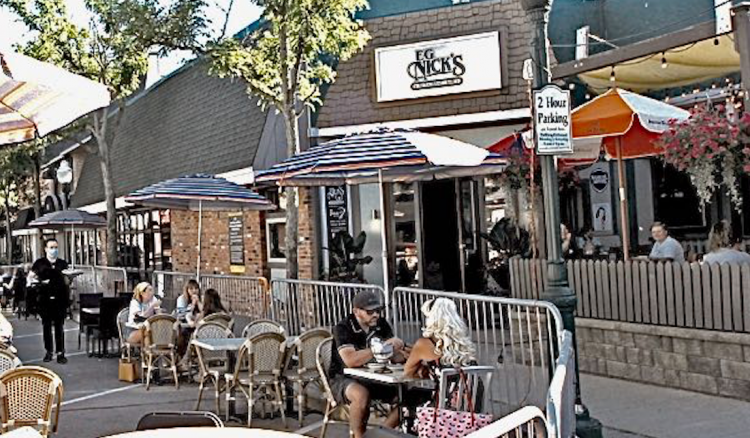 Jun. 28, 2020  PLYMOUTH EAGLE.
Plymouth Michigan News
Restaurant patrons were eager to enjoy the first days of the relaxed quarantine orders at newly-established expanded outdoor seating last week in downtown Northville and Plymouth.
In Northville, members of the city council unanimously approved the "Reopening Downtown Special Event" at a special online meeting June 5 to help jump-start sales for restaurants and retailers. The businesses had been operating at reduced capacity or closed since mid-March due to the COVID-19 pandemic. The DDA submitted a special event application that creates a pedestrian mall with expanded outdoor seating for restaurants and merchandise displays by retailers on North Center Street from Main to Dunlap and East Main between Hutton and Center. The special event application requires those streets be closed to traffic from sometime in June until Oct. 31.
In Plymouth, the Downtown Development Authority also organized expanded seating areas into streets to allow for the reduced capacity of restaurants now practicing the social distancing restrictions with seating reduced by 50 percent at many locations. On Forest Street, E.G. Nick's expanded into parking spots in the front of the restaurant behind portable barricades while several establishments on Main Street, including Compari's and Fiamma, also opened using portions of the street as patio areas. Greek Islands Eatery is using an expanded area of the Main Street sidewalk to accommodate the necessary safety precautions.
Plymouth City Commission members approved the expanded seating for reopening the restaurants in May, in anticipation of the lifting of the governor's stay at home orders. In Canton Township, restaurants reopened, too, with limited capacity for indoor dining, exercising all prescribed safety measures to prevent the spread of COVID-19.
Northville DDA Director Lori Ward said House Bill 5781, if approved, would allow municipalities the ability to designate a "social district" that contains a commons area that may be used by the businesses in the social district to serve alcohol for consumption on site. The bill was amended and sent to the Ways and Means committee, she explained, and the 13 LCC licensees in downtown Northville, many of them located on Main, will need both the state permit for a limited permanent outdoor service area and city permit to serve alcohol in an expanded outdoor area. Northville officials said they will close streets when the majority of restaurants in an area have those permits in place.
The enhanced space allows for social distancing as businesses welcome back customers who had quarantined at home to prevent the rapid spread of COVID-19, officials said. Many Northville and Plymouth businesses suffered financially during the three-month period when executive orders by the governor limited non- essential business operations in an effort to reduce the high rate of disease and death caused by the novel coronavirus.
Ward noted that the plan will need to be re-evaluated weekly in part because, "We don't know what's going on with the virus spread."
In Plymouth, several popular main-stays have not yet reopened as owners are taking a more cautious approach to the current safety regulation. Several said they will reopen next month, if they feel the situation is safe for both customers and staff members.
Northville City Manager Pat Sullivan voiced his concern about having increased traffic in neighborhoods with the closure of two main streets downtown. His message was matched by Police Chief Alan Maciag, who said the police have been getting a lot of calls recently about speeding in neighborhoods and he was concerned about increased neighborhood traffic with the closure of Center Street especially. He recommended just closing Main Street for the business reopenings.
In Plymouth, the restaurants have utilized the former parking places in front of their establishments, but no streets have been closed to traffic. In Northville, however, street closures on E. Main from Center to Hutton and on N. Center from Main to Dunlap will be marked with barriers with room to allow egress for emergency vehicles. No street closures are involved in the Canton openings.
In most area communities, numerous local businesses have also reopened, some also utilizing parking spaces in front of their stores. Many have limited hours, limited customer capacity and require the wearing of masks and social distancing. Information about reopenings is available on the respective DDA websites.
Plymouth Voice.