Private access road dispute leads to township hall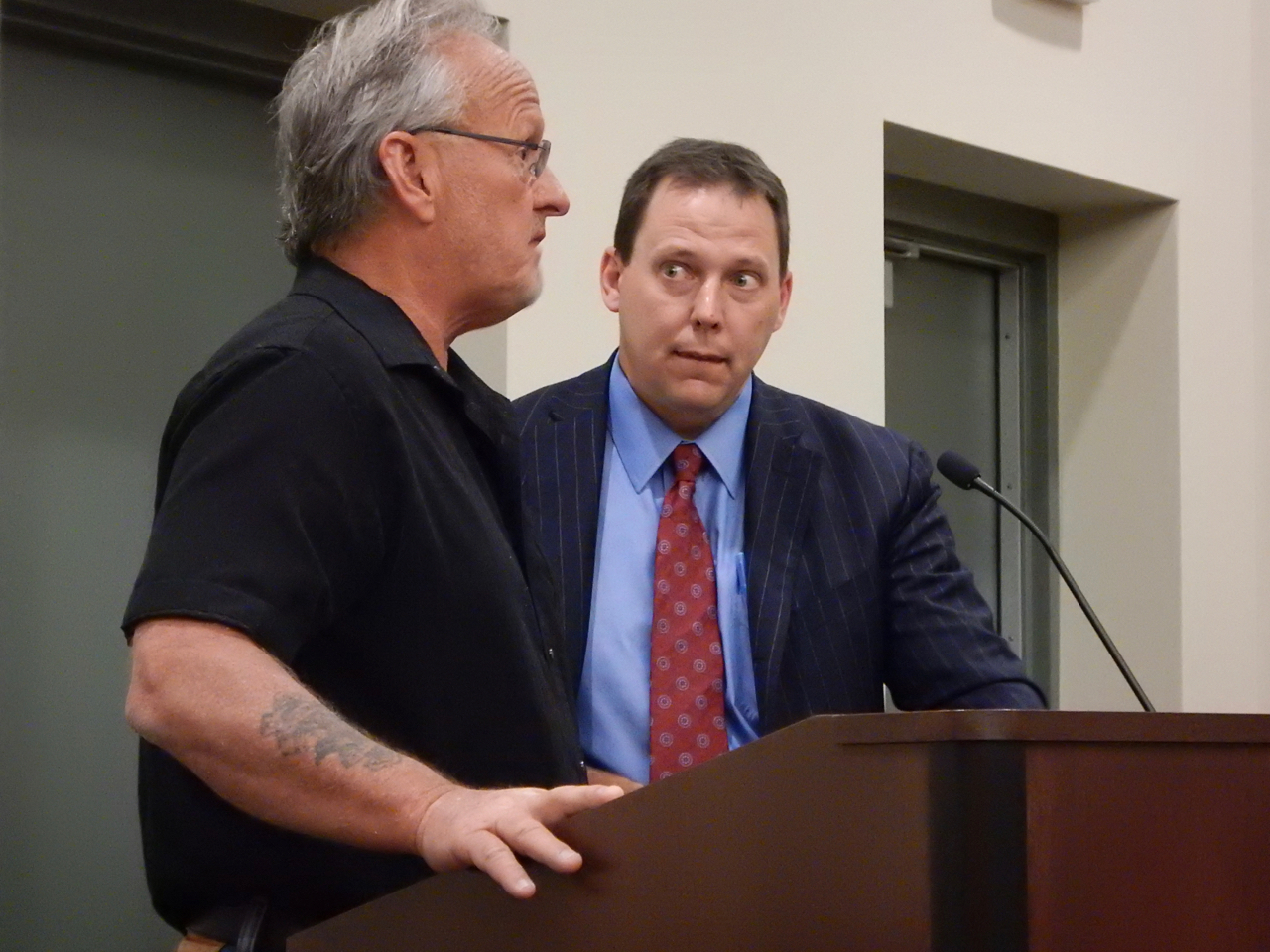 Plymouth resident Patrick Kelley and his attorney Patrick Guentner question township officials on ordinance violations at recent board meeting
Jun. 8, 2017  PLYMOUTH EAGLE.
Plymouth Michigan News
UPDATED
Don Howard
Staff Writer
A long and winding dispute between neighbors sharing an access road to their respective properties led to Plymouth Township Hall and the meeting of the board of trustees last week.
Patrick Kelley, a life-long resident of the township, told the board members that he has maintained the 1,800 foot access road that leads to his home for decades. The private driveway is considered an egress easement for Kelley and three other homeowners, one of whom has prohibited Kelley from continuing his efforts to keep the driveway free of plant growth, overhanging tree limbs and refuse.
Attorney Patrick Guentner spoke to the trustees on Kelley's behalf and explained that his client, who has lived on the property for more than 60 years, is frustrated by the failure of township Ordinance Ofc. Kathy Pumphrey and Chief Building Official Mark Lewis to address the noxious weed violations and overhead tree branches that could restrict emergency access to his home. Kelley's 87-year-old mother lives in the home and unrestricted access for emergency vehicles such as fire trucks or an ambulance is a serious concern for the homeowners, Guentner said.
Guentner added that Pumphrey and Lewis have failed to address violations of township ordinances regarding the weeds and branches. Guentner told board members he and Kelley were seeking a resolution and found it disheartening that the ordinance violations were not addressed and questioned the failure of anyone from the township to respond to his inquiries regarding the situation.
"Any type of response would have been better than no response All I'm asking is that someone address the violations," Guentner said.
Trustee Chuck Curmi responded asking the attorney if the matter involved "a dispute between two long-time business partners and friends who owned a company together?"
Guentner confirmed there was a pending circuit court action to quiet title on the surrounding land but said that case did not address the ordinance violations.
Land records show that Kelley sold his business and an adjoining 3-acre parcel of land several years ago to his former business partner, Mustafa Kay, whose home fronts on Ann Arbor Road and shares the access road. Guentner said Kay had conducted a survey and now wants to sell the land.
Kelley said that shortly after Kay sustained a severely debilitating and life- changing health event, his wife, Sharon Kay, objected to the trimming of the grass that abuts the south side of his home. She erected large orange survey markers and insisted Kelley not touch the overhanging tree branches on the shared access road.
Kelley said that he and his wife are concerned about the hindrance of emergency vehicles in the spring and fall when low branches from trees hang over the road making it nearly impassable. He said he was ordered not to cut the grass, which is now 29 inches tall, nor do any tree trimming. In addition, he said, Kay has charged that his power generator is on her property. He told board members that he received a warning letter from Pumpfrey stating that he was in violation of multiple township ordinances and was subject to a $500 fine.
"She (Kay) called the police on me two times," Kelley said.
"The ordinance officer is not your private posse that's going to go out there and hit your neighbors up for things. We're going to treat you like we treat everyone else," Township Supervisor Kurt Heise explained to Kelley. Township attorney Kevin Bennett concurred and took exception to Kelley's complaints about Pumpfrey and Lewis failing to take action.
"They are not the enforcing agency-the enforcing agency would be my office. Another avenue for them to take is to submit a local warrant request then the ultimate responsibility would be on me whether or not to bring charges. That's the process," Bennett said.
Kelley said after the meeting that he has a property deed that shows his shared ownership of the private drive. He said he also holds an official document concerning the ownership of the 50-foot strip to the south of his property that entitles him to cut the grass and keep his power generator on the land.
He said the dangerous tree and weed violations on the access road should be enforced by the township.
The board of trustees asked Lewis to be the liaison between them and Kelley and to report back after further investigation.
Plymouth Voice.